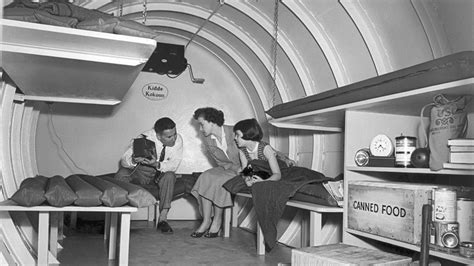 Panic has often driven people to do some crazy things at the behest of the federal government.  Such was the case on this day in 1961.
The era of the Cold War was upon us.  The United States was being led by President John F. Kennedy.  Soviet Premier Nikita Khrushchev was leading Russia.  On May 26th, 1961, a meeting between the two leaders in Vienna left Kennedy with the deep impression that America was in danger from a nuclear attack.
By September 1961, fluorescent yellow and white signs were attached to walls in major cities to indicate the location of Fall Out Shelters.  These deep basements were merely a placebo to placate a worried populace.  "Most citizens would find only dank, low-ceilinged basements equipped with the barest necessities: bedding, drums of potable water, medical kits and government-issue wheat crackers.
"And while Uncle Sam thoughtfully provided toilet paper, the toilets themselves were harder to come by. A handy tip from a government booklet advised: "Make a commode by cutting the seat out of a chair and placing the pail under it." It's little wonder that the medical kits also included phenobarbital to chill everybody out."1
On October 6, 1961, Kennedy took to the airwaves and encouraged Americans to build their own bomb shelters.  While your own personal shelter could be stocked with your favorite foods, water, and decorated to your taste, it was still primitive, especially concerning sanitation.  Over an extended period of time stuck in the shelters, the air was going to get stale quickly and buckets of human excrement were going to pile up.
A year later, the Cuban Missile Crisis had Americans panicked.  Those who had not finished their bomb shelters were quickly trying to complete them.  Store shelves were emptied as the "holocaust" was feared.2
While instructing the public to follow the government's recommendations, Kennedy was personally skeptical of the viability of such shelters.  His feelings were not known publicly until long after his death when his library was established and internal memos became part of the public record.  Though not voiced, his sentiments were echoed by the public.
"Anyone who read the newspapers understood not just that an inbound ICBM (intercontinental ballistic missile)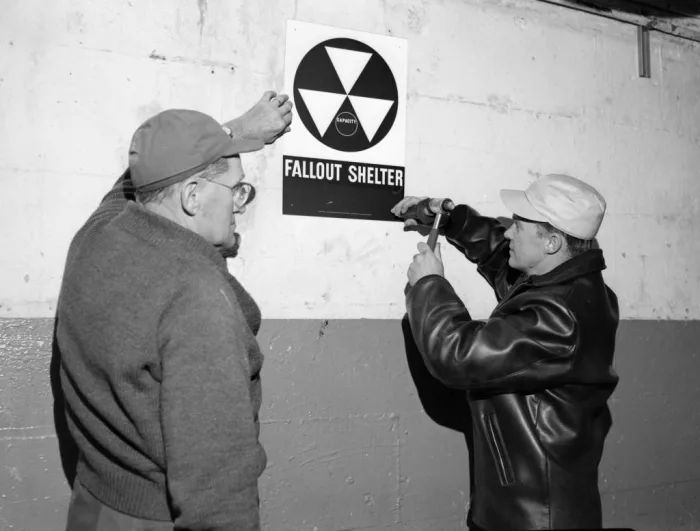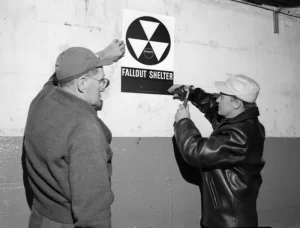 would leave them only 15 minutes, if that long, to get to a fallout shelter—but also that few structures in the city would survive a strike anyway. As Steven R. David, professor of international relations at John Hopkins University, observes: "People reasoned, when faced with the prospect of nuclear war, climbing into a shelter probably wasn't going to do that much good."
"In fact, mere weeks after the shelter program got started, The Washington Post was already reporting "a public feeling of helplessness" about civil defense. In January of 1962, Life magazine encapsulated the sentiments of many when it quoted a bank teller named Dorothy Gannaway. "An attack wouldn't be one bomb, it would be many," she said. "We'd die in those shelters."3
Why is it that the government seems to be more capable of spreading panic than peace?  In just the last couple of years, we've listened to the government change their story on a weekly basis (sometimes daily) and then a couple of years later, we find them backpedaling, stating that they knew their answers weren't going to work.
Those who were speaking logically, rationally, and sensibly were all declared to be subversives, wack-a-doodles, and conspiracy theorists.  Noah was a conspiracy theorist.  And then it rained.
Matthew 24 deals with the Tribulation Period, a time following the Rapture of the church.  Though the verses don't apply directly to Christians of the church age, they certainly provide some applicable advice.  Matthew 24:6-8 says, "And ye shall hear of wars and rumours of wars: see that ye be not troubled: for all these things must come to pass, but the end is not yet.  (7)  For nation shall rise against nation, and kingdom against kingdom: and there shall be famines, and pestilences, and earthquakes, in divers places.  (8)  All these are the beginning of sorrows."
The verses that follow are loaded with bleak, frightening details.  Before the Lord ever shared them, He said in Matthew 24:4, "…Take heed that no man deceive you."
Lies and deception invoke panic and fear.  Truth provides comfort and peace.  Regardless of the world events, remember that "Jesus is the Rock in a weary land, a shelter in the time of storm."
1https://www.history.com/news/nuclear-fallout-shelters-were-never-going-to-work
2https://www.history.com/this-day-in-history/kennedy-urges-americans-to-build-bomb-shelters
3https://www.history.com/news/nuclear-fallout-shelters-were-never-going-to-work