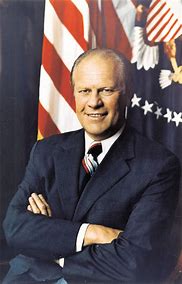 On this day in 1974, President Gerald Ford stood before the Congressional Subcommittee on Criminal Justice to give an account for his actions.  The day following the resignation of President Richard M. Nixon over the Watergate scandal, Gerald Ford was sworn in as the 38th President of the United States of America on August 9, 1974.  On September 8, 1974, President Ford granted a full pardon to former President Nixon.
In the official statement given to the Subcommittee, President Ford said, "That purpose [for the pardon] was to change our national focus. I wanted to do all I could to shift our attentions from the pursuit of a fallen President to the pursuit of the urgent needs of a rising nation. Our nation is under the severest of challenges now to employ its full energies and efforts in the pursuit of a sound and growing economy at home and a stable and peaceful world around us.
"We would needlessly be diverted from meeting those challenges if we as a people were to remain sharply divided over whether to indict, bring to trial, and punish a former President, who already is condemned to suffer long and deeply in the shame and disgrace brought upon the office he held. Surely, we are not a revengeful people. We have often demonstrated a readiness to feel compassion and to act out of mercy. As a people we have a long record of forgiving even those who have been our country's most destructive foes."1
President Ford served as President for 2 years, 5 months, and 12 days.  It is believed that this pardon cost him the election for his own full term and he was replaced by President Jimmy Carter.
If you can, chase all political thoughts from your mind and focus on one word:  pardon.  The Psalmist cried out, "For thy name's sake, O LORD, pardon mine iniquity; for it is great." (Psalms 25:11)  David's iniquity certainly was great.  But I am reminded of the hymn writer's words:
Pardon for sin and a peace that endureth,
thine own dear presence to cheer and to guide,
strength for today and bright hope for tomorrow;
blessings all mine, with ten thousand beside!
Great is thy faithfulness!
Great is thy faithfulness!
Morning by morning new mercies I see.
All I have needed thy hand hath provided.
Great is thy faithfulness, Lord, unto me!
As we go to church today, let us remember that were it not for the blood of Jesus and His amazing forgiveness and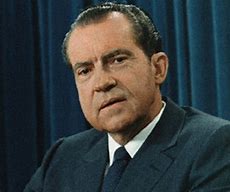 pardon, we would have no right to be there.  We gather with a room full of pardoned individuals, all whose sins deserved God's severest of punishments.  And it's only by His grace that we can come into His presence, individually or collectively, and worship Him.
Our full pardon doesn't sit well with some.  Thankfully, we don't answer to them.  Instead, we have an Advocate standing up for us, declaring that our pardon is legal and binding.  Praise the Lord!
1https://www.gilderlehrman.org/sites/default/files/inline-pdfs/t-02109.pdf