Where were you on the morning of September 11, 2001?  This is a day we will not soon forget.  It was on this day that Al-Qaeda, Osama bin Laden, Taliban, and terrorism became household words as we watched the horrific scenes in NYC unfold.
Four California-bound flights were hijacked by Islamic terrorists.  American Airlines Flight 11 and United Airlines Flight 175 were flown into the World Trade Center towers.  American Airlines Flight 77 crashed into the Pentagon.  United Airlines Flight 93 was headed for the White House.  Had it not been for the heroics of the passengers of Flight 93 who staged a revolt, the plane would most likely have destroyed the White House.  Instead, it was crashed near Shanksville, PA.
The images of the planes hitting the towers was replayed over and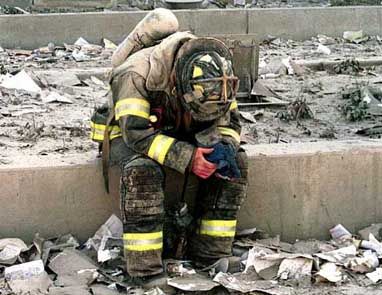 over.  We watched breathlessly as the first tower collapsed, then, the second.  Images of the hole carved into the Pentagon, the structure representing the defense of our nation, caused us panic.   And the scenes coming out of Pennsylvania grieved us.
ALL the scenes grieved us and shook us to our core.  We were gripped by the agony in the faces of the survivors.  The final tally of fatalities was 2,977 plus all 19 hijackers.  The fire department lost 343 that day.1  The police lost 71 officers.2  Those affected by the toxicity of the scene are in the thousands.
"Academics and air pollution experts have described the dust from the collapsed towers as 'wildly toxic', made up of more than 2,500 contaminants including glass, lead and mercury.
"When the planes crashed into the towers, 24,000 gallons of jet fuel ignited a fire that spread to 100,000 tons of organic debris and 230,000 gallons of transformer, heating and diesel oils in the buildings, setting off a giant toxic plume of soot and dust from pulverized building materials, according to a Centers for Disease Control and Prevention report. The fires continued to burn during the rescue and recovery operations at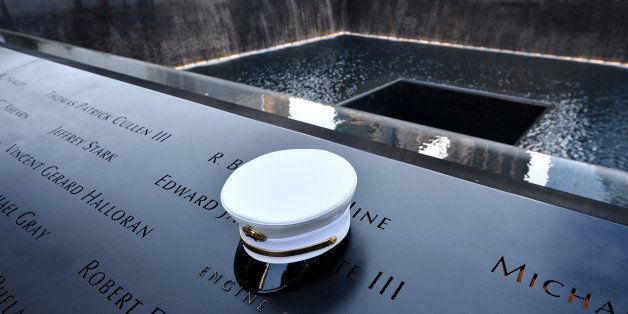 Ground Zero, and workers were exposed to chemicals like asbestos, carbon monoxide, hydrogen sulfide, crystalline silica and other metals and particulates…
"An FDNY study found that nearly 9,000 firefighters who were exposed to the 9/11 dust may be at greater risk for cancer than those who were not exposed, and the city's World Trade Center Registry found small increases in the rates of prostate cancer, thyroid cancer and the blood cancer multiple myeloma among nearly 34,000 rescue and recovery workers, compared to New York State residents."3
To say that America has been forever changed by this one event is an understatement.  However, were it not for the heroes – the patriots – things could have been a whole lot worse.
Today is Patriot's Day where we remember the lives that were lost and those who gave up their lives to save others.  As the plan to revolt on Flight 93 was developing, "Thomas Burnett, Jr., told his wife over the phone that "I know we're all going to die. There's three of us who are going to do something about it. I love you, honey." Another passenger—Todd Beamer—was heard saying "Are you guys ready? Let's roll" over an open line. Sandy Bradshaw, a flight attendant, called her husband and explained that she had slipped into a galley and was filling pitchers with
boiling water. Her last words to him were "Everyone's running to first class. I've got to go. Bye."4
On this day, a familiar passage of Scripture comes to mind.  Jesus said in John 15:13, "Greater love hath no man than this, that a man lay down his life for his friends."  Jesus demonstrated this great sacrifice at Calvary as He laid his life down for enemies – enemies of the cross and those whose sins put them at enmity with God.  (Ephesians 2:15).  He carried our sins and gave His blood in payment so that when we trust Jesus as our Savior, we become children of God and friends.
As we remember the patriots and a part of our American history, let us be grateful for those who gave their lives through the years in service to strangers.  And, let us never forget that they acted with a love demonstrated by Jesus on Calvary's cross.
1http://neverforgetproject.com/statistics
2https://www.odmp.org/search/incident/september-11-terrorist-attack
3http://neverforgetproject.com/statistics
4https://www.history.com/this-day-in-history/attack-on-america