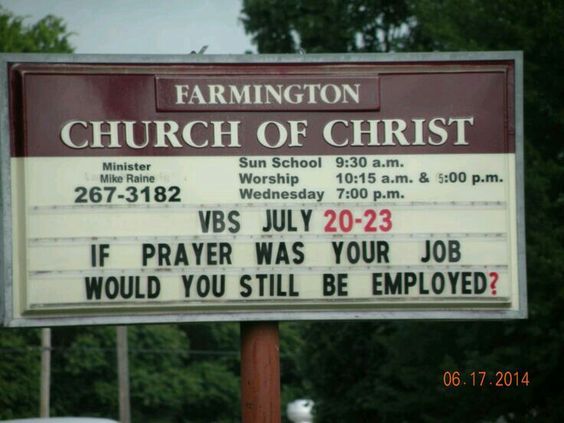 We are continuing our devotional series, looking at some theology found on church signs.  Sometimes, those short and pithy marquee messages pack a wallop!  They are "punny" yet potent.  A few signs even convey a wrong message which becomes a message in itself.   This opening paragraph and little disclaimer will accompany each devotional:  The use of the church sign's message in no wise constitutes an endorsement of the church or denomination.  With that in mind…
Let's talk about prayer.
"If prayer was your job, would you still be employed?"  That makes you stop and think, doesn't it?  How much do I really pray?  And, what's the depth of my reliance on prayer?  As a Christian, I should look at prayer as if it were a vital lifeline, as necessary to my soul as air is to my lungs and food to my nourishment.
Why is prayer so important?  Because it welcomes and enlists God's intervention into our daily lives.  It is an admission of our dependence on God and our personal inadequacy.  Jesus prepared the disciples for a parable with this statement, "And he spake a parable unto them to this end, that men ought always to pray, and not to faint." (Luke 18:1)
Let's take this a step further.
"Is prayer your steering wheel or your spare tire?"  Does it steer you through the day or only come out in times of emergency, when life picks up a nail and you get a flat tire?  Several passages in the Bible remind us that prayer should be a constant and consistent part of our life, not something we use in emergency situations.
Philippians 4:6 says, "Be careful for nothing; but in every thing by prayer and supplication with thanksgiving let your requests be made known unto God."  And, Ephesians 6:18 says, "Praying always with all prayer and supplication in the Spirit, and watching thereunto with all perseverance and supplication for all saints."  1 Thessalonians 5:17 gives us one of the shortest verses in Scripture but one of the most important:  "Pray without ceasing."  Do we get the point that prayer must be our steering wheel?
"American school are failing; they don't have a prayer."  This thought is true of so much more than our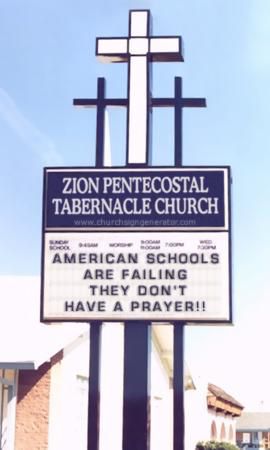 schools.  In the 1962 US Supreme Court case, Engel v Vitale, the Court ruled that prayer in public school violated the Establishment Clause.  In the '70s, Stryker Schools had evidently not gotten the memo because our elementary teachers led in prayer at the beginning of the day after the Pledge of Allegiance and before we went to lunch.  This is something for which I'm grateful.
We do a lot complaining about prayer being removed from school but how many of us have removed it from our lives?  If we don't personally have a consistent, thriving prayer life, what right do we have to throw stones at the schools?
The last two signs have special messages.
"Don't put people down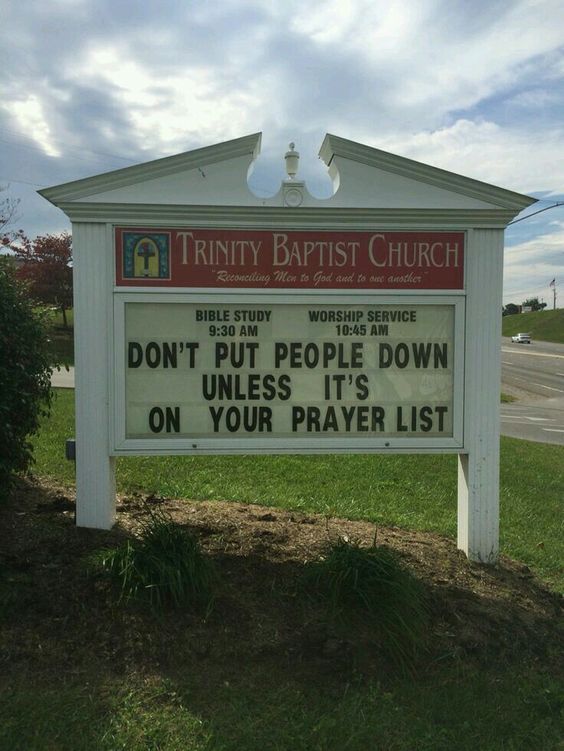 unless it's on your prayer list."  Paul put a LOT of people down.  In Philippians 1:3-4, he wrote, "I thank my God upon every remembrance of you,  (4)  Always in every prayer of mine for you all making request with joy."  It is so easy to put people down.  In some situations, it makes us feel bigger by making someone else look smaller.  And let's be honest – some folks are just easy targets, giving us plenty of ammunition.
Does that make it right?  Are we ever justified to put someone down?  Of course not.  Unless it's on our prayer list!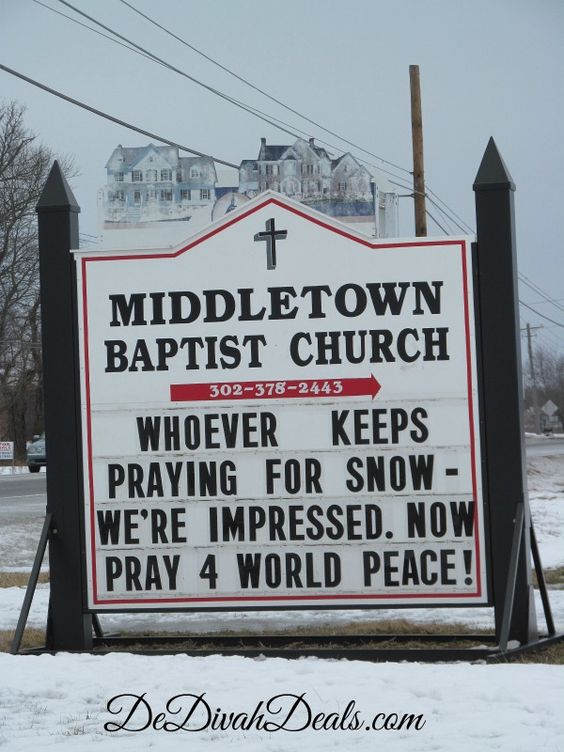 "Whoever keeps praying for snow, we're impressed. Now pray 4 world peace."  I love this!  Middletown Baptist Church humorously acknowledges the power in prayer.  Jesus says in Matthew 21:22, "And all things, whatsoever ye shall ask in prayer, believing, ye shall receive."  Let's not neglect to add some conditions.  Jesus said in John 14:13-14 to ask in His name.  1 John 5:14 says to ask according to His will.  And, James admonishes us not to ask so that we can "consume it upon our lusts."
The church signs remind us of the importance of prayer.  Prayer warriors are needed.  Will you enlist today?