Joe Kennedy is a name that has made the news throughout the world, especially, in the state of Washington.  After serving as a Marine for 18 years (OORAH!), he began coaching the Bremerton High School Knight's football team once his military service ended.  On October 29, 2015, Kennedy was placed on paid administrative leave after seven years as the coach.
What could this man possibly have done?  Because of others who have been suspended or fired, we might immediately think that he had been inappropriate with a student.  Perhaps he said something on a social media platform that offended someone.  Or, it could have been embezzlement from the athletic booster's funds.  However, none of these got the coached fired.  His offense?
For seven years after every game, he went privately to the 50-yard line and took a knee in prayer.
Coach Kennedy said he had "committed to God that he would give thanks at the end of each game, thanking the Lord for what his players had accomplished and for his opportunity to be a part of their lives through football."1
Students saw what their coach was doing and asked if they could join him.  Kennedy said, "This is a free country; you can do what you want."2  Soon, students from the opposing teams as well as coaching staff would join Kennedy at the 50-yard line.  This all went along without incident for six years.
Then, a coach from a rival team said something to the superintendent of his own district.  That superintendent talked with Kennedy's superintendent who informed him that he couldn't pray on the field anymore.  Kennedy complied for one game and felt so guilty that he went back to the field after everyone had left.  The next game, he returned to his practice, exercising his Constitutional right.
It wasn't long before Kennedy had his walking papers.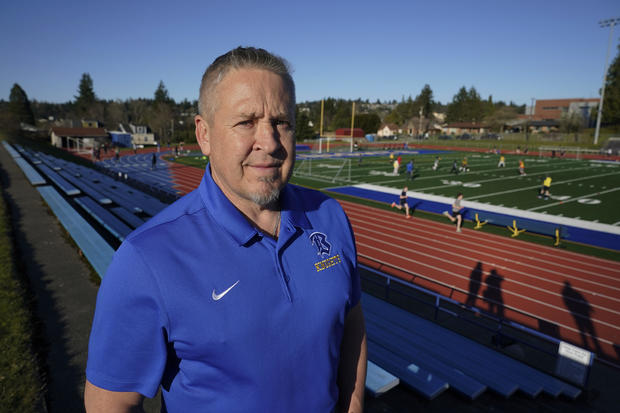 Kennedy has sued the district.  The suit has nothing to do with monetary gain.  It has everything to do with religious freedom.  On April 25, 2022, the case was heard by the Supreme Court.  A verdict will be rendered later this year.
Throughout the USA, we have seen religious freedoms erode as a small faction of atheists, agnostics, and haters of God and religion rear their vile heads.  Even in Washington, a group of preachers and priests joined with the Freedom From Religion crowd to voice opposition to Kennedy.  One of those voices was the "Right Reverend Douglas Avilesbernal, executive minister of the Evergreen Association of American Baptist Churches, which includes Bremerton."3
Allegedly, Kennedy wasn't fired just for praying on the football field.  His testimony became public and the kids wanted what he has.  He answered their spiritual questions forthrightly.  When asked to pray for a homecoming game by the students, he obliged.  And this ruffled the feathers of the irreligious.
Any way you slice it, it seems to me that Coach Kennedy was just obeying the Scriptures.  Consider 1 Peter 3:15-17.  "But sanctify the Lord God in your hearts (the coach did): and be ready always (he was) to give an answer to every man that asketh you a reason of the hope that is in you with meekness and fear:  (he did this, too) (16)  Having a good conscience; that, whereas they speak evil of you, as of evildoers, (they sure did) they may be ashamed that falsely accuse your good conversation in Christ. (this hasn't happened yet but it will)  (17)  For it is better, if the will of God be so, that ye suffer for well doing, than for evil doing."  And the coach has suffered.
Coach Kennedy deserves a holy OORAH from believers all across this nation.
1https://www.thesportscol.com/2022/05/scotus-hears-first-amendment-case-brought-by-a-high-school-football-coach/
2https://firstliberty.org/cases/coachkennedy/
3https://www.newsweek.com/us-supreme-court-taking-case-high-school-football-coach-fighting-right-pray-50-yard-line-1693135
Coach 2, 3