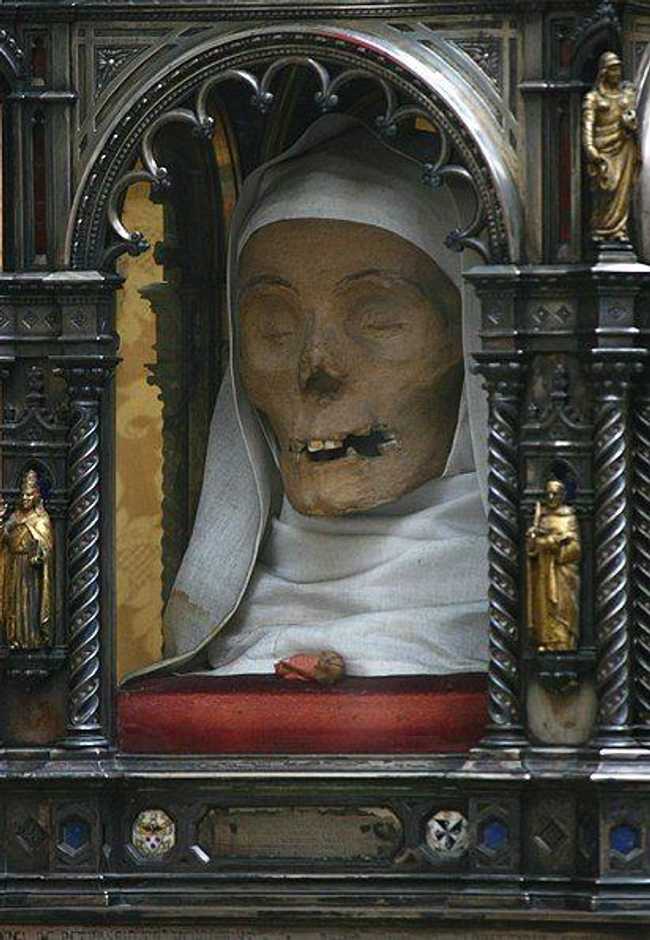 Most of the world's religions have retained some relics that are believed to possess great spiritual significance, even some sort of mystical power.  The faithful of that religion visit the artifact to pay homage and snap a selfie with the item as a sacred souvenir.  Just consider what some have considered venerable.
Siddhartha Gautama was better known as Buddha.   He died in 483 BC.  The relics attributed to Buddha "include a hair that's supposed to have been Buddha's that moves on its own, as well as 10,000 colored crystals said to have been sifted out of his cremated remains…  the most popular relic of Buddha is his tooth, which … is inhumanly large and reportedly continues to grow long after Buddha's death. It also apparently radiates light, emits a beautiful fragrance, and attracts baby birds. Another relic claiming to be Buddha's left canine can be found in the Temple of the Tooth in Sri Lanka, and the one who holds this tooth is said to have the divine right of rulership."1
In Delhi, India, Muslims can see the extremely large footprint of Muhammad.  It has been preserved at the Shrine of the Holy Footprint.  If you believed in Bigfoot or Yetis, you would think it was one of their prints.
Italy is the place where Roman Catholicism can find many "unique" relics.  For instance, Naples has the blood of St. Januaris.  Three times a year, two glass viles containing the congealed blood of the saint are placed beside a silver head that is supposed to contain the skull of Januaris.  Allegedly, the blood will instantly liquify.  If it fails to liquify, it is an omen that something bad is about to happen.
In Sienna, Catholics can make a pilgrimage to see the severed head of St. Catherine along with a smaller reliquary that holds her right thumb.  At the Basilica of Saint Clare in Assisi, they can see the wax encased corpse of St. Clare as well as a box of her hair and a glass full of her fingernails.  And, if your stomach can handle more, you could travel to Padua, Italy where the tongue, lower jaw, and vocal cords of St. Anthony can be viewed.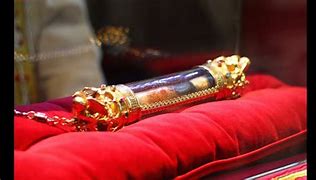 One more – and you just can't make this up.  In Bethlehem, there is the Shrine of the Milk Grotto, recognized by Pope Gregory XI in 1375.  Fleeing Herod, Mary and Joseph presumably stopped in this cave long enough to nurse the Baby Jesus.  A drop of mother's milk spilled upon a rock from Mary's breast, turning it white.  New mothers and those wishing to conceive will come to worship in this "holy" place.  In centuries gone by, scrapings of the chalky substance from the rock would be added to their food with the belief that this would enhance the woman's ability to conceive or to produce more milk for her baby.  Today, the chalky powder is available only in the Grotto gift shop for $18.00 but that also includes a free prayer card!
While these things legitimately creep us out, why hasn't the Lord allowed us to find some relics that are actually Scriptural?  Wouldn't it be awesome to find the Ark of the Covenant containing Aaron's rod that budded, a pot of manna, and the 10 Commandment tablets?  Imagine finding the Holy Grail, the cup from which Jesus shared the Last Supper.  What about finding the swaddling clothes from His infancy or the cross upon which Jesus suffered?
The answer to the questions can actually be found in Scripture through the example of a relic.  Numbers 21:7-9 says, "Therefore the people came to Moses, and said, We have sinned, for we have spoken against the LORD, and against thee; pray unto the LORD, that he take away the serpents from us. And Moses prayed for the people.  (8)  And the LORD said unto Moses, Make thee a fiery serpent, and set it upon a pole: and it shall come to pass, that every one that is bitten, when he looketh upon it, shall live.  (9)  And Moses made a serpent of brass, and put it upon a pole, and it came to pass, that if a serpent had bitten any man, when he beheld the serpent of brass, he lived."
Whatever happened to that serpent of brass?  When King Hezekiah ascended to the throne in 2 Kings 18, we are told "And he did that which was right in the sight of the LORD, according to all that David his father did.  (4)  He removed the high places, and brake the images, and cut down the groves, and brake in pieces the brasen serpent that Moses had made: for unto those days the children of Israel did burn incense to it: and he called it Nehushtan."  The relic had become a source of superstition and idolatry.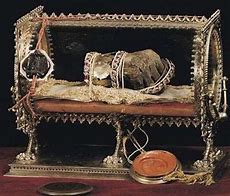 Relics have no power and the Bible is replete with warnings against idolatry.  Our worship and focus are to be on a person, the living Lord and Savior.  If we need images and icons to make us worshipful, we have bigger problems than we realize!
While it would be interesting to see relics directly from the Bible stories, we can be grateful that we don't have them and that the Lord is sparing us from a certain trap in which we would be assuredly caught.
1https://www.grunge.com/190620/the-worlds-most-fascinating-religious-relics/?utm_campaign=clip