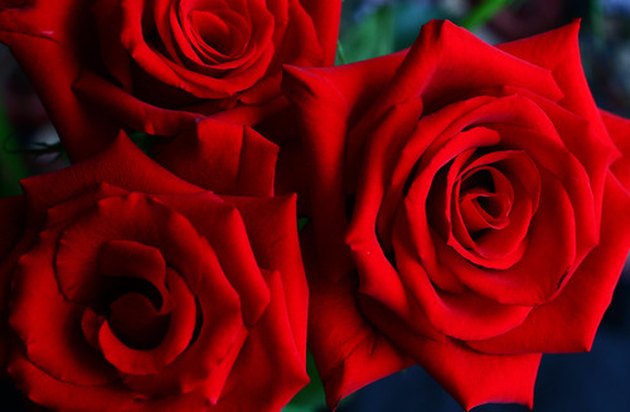 "Roses, the single most popular flower in the U.S. year-round, consist of 30 to 35% of cut flowers sold in a given year…"  Several floral websites state that there are well over one billion cut roses sold every year.  "It is estimated that some 224 million roses are grown and cultivated just for Valentine's Day."  https://smartasset.com/insights/the-economics-of-flowers; https://www.valentinesgiftsforher.com.au/how-many-roses-are-sold/
The rose has long been associated with its beauty and has found its way into songs and poetry.  Like the infamous "knock-knock" jokes, there are thousands of renditions of the "roses are red" poems.  Here's just a few samples:
Roses are red, violets are blue, my life began, the day I met you!
Roses are red, violets are blue, I never found someone, as patient as you!
Roses are red, violets are blue, don't kiss me now, I have the flu!
Roses are red, violets are blue, that's what they said, but it's not really true!
Roses are red, that is true, but violets are purple, they are not blue!
Yesterday, our devotional was about roses and some lessons that I learned the hard way.  The rose has another lesson to teach us.  Hiding in the midst of the beauty of the roses are thorns, more accurately, prickles, which cut and puncture the unprotected hand.
What good are those prickles, anyway? According to ehow.com, "Prickles serve as a protection for these beautiful flowers from rodents and other animals that may eat or harm them. You can imagine that if there were absolutely no prickles on the roses, humans would not hesitate smelling, touching and picking them. Some roses would not grow as hardy and beautiful as they do since they have prickles."  https://www.ehow.com/about_6719394_do-rose-bushes-thorns_.html
Just like the roses, life is full of prickles — problems and prickles!  Have you ever commented how wonderful life might be were it not for problems?  What we desire is roses without thorns, life without the prickles."  However, just as God placed prickles on the roses, God has placed or allowed the prickles of problems in the course of our lives.   They protect us and help us grow strong.
2 Corinthians 4:8-12, 17-18 says, "We are troubled on every side, yet not distressed; we are perplexed, but not in despair;  (9)  Persecuted, but not forsaken; cast down, but not destroyed;  (10)  Always bearing about in the body the dying of the Lord Jesus, that the life also of Jesus might be made manifest in our body.  (11)  For we which live are alway delivered unto death for Jesus' sake, that the life also of Jesus might be made manifest in our mortal flesh.  (12)  So then death worketh in us, but life in you…For our light affliction, which is but for a moment, worketh for us a far more exceeding and eternal weight of glory;  (18)  While we look not at the things which are seen, but at the things which are not seen: for the things which are seen are temporal; but the things which are not seen are eternal."
When we see those roses, we instantly want to pick a bouquet, moving them to a "better" place.  However, picking the rose ultimately leads to its death.  While it looks beautiful on your dining room table in its glass vase, that rose will die long before its time.  Had it remained on the bush, it would have lasted a lot longer and blessed many more people.
God uses those prickles in life to keep us from getting "picked," removed from the place where we are growing, flourishing, and blessing and placed into something more "decorative and pretty."  While a life without thorns/prickles sounds nice, we could never be the roses in God's garden that He intends us to be.
Thank God for the roses but, also, thank Him for the prickles.