I'm going to give you a list of women's names.  There is a common element.  See if you can guess what it is.  Aurora.  Merida.  Anna.  Jasmine.  Tiana.  Elsa.  Vanellope.  If you haven't quite got it figured out, let me suggest two more names that will cinch it for you:  Snow White and Cinderella.  What's the common thread?  They are all Disney Princesses.
Raising girls and the vast majority of their friends being the same gender, suffice it to say that we've seen our fair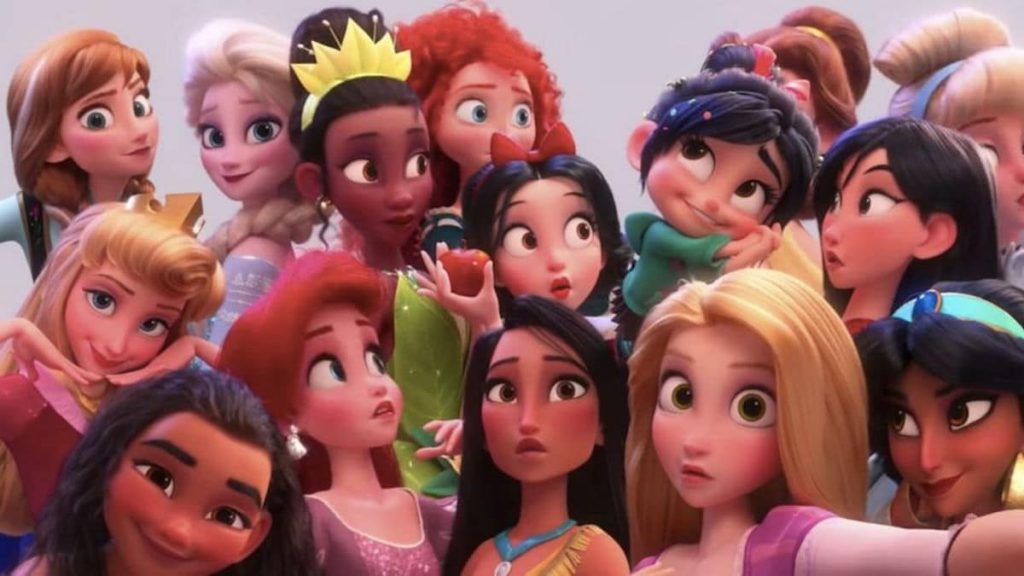 share of the princess movies – many times.  The average little girl enjoys those movies because it plays to her "womanly" side:
She has lots of pretty clothes;
She has even more shoes;
I'm certain that there is a closet full of purses and other accessories!
She is young, pretty, perfect complexion, and beautiful hair;
She meets the man of her dreams, they fall in love, he does something heroic in her life, they marry…
And, they live happily ever after. The End.
The girls love to dress up, play the part, and just have fun with it.  However, there is a segment of society that hates Disney and their portrayal of the princesses.  The haters argue that this degrades women through simplistic, sexist stereotypes.  I'm thinking that someone is over-thinking a cartoon that is based off of a fairy tale!  The only person who treats the princesses bad is typically the wicked stepmom – and you don't hear an outcry from offended stepmoms, do you?
Let's face it, though.  All princesses do NOT look like what Disney portrays.
Genesis 17:15-16 says, "And God said unto Abraham, As for Sarai thy wife, thou shalt not call her name Sarai, but Sarah shall her name be.  (16)  And I will bless her, and give thee a son also of her: yea, I will bless her, and she shall be a mother of nations; kings of people shall be of her."
The 17th c. Bible commentator, Matthew Poole, wrote, "Sarai signifies my lady, or my princess, which confines her dominion to one family; but Sarah signifies either a lady or princess, simply and absolutely without restriction, or the princess of a multitude."
When Sarai is younger – much younger – we might be able to envision her as a "princess."  However, not so much at 90.  The word "princess" itself conveys the idea of someone younger.  Now, don't get upset with me.  I'm just agreeing with Sarah.  Even she knew that she was old and could admit it.
When the LORD visited Abraham in chapter 18, the message given was received with disbelief.  "And he said, I will certainly return unto thee according to the time of life; and, lo, Sarah thy wife shall have a son. And Sarah heard it in the tent door, which was behind him.  (11)  Now Abraham and Sarah were old and well stricken in age; and it ceased to be with Sarah after the manner of women.  (12)  Therefore Sarah laughed within herself, saying, After I am waxed old shall I have pleasure, my lord being old also?" (Genesis 18:10-12)  See?  They knew they were old!  And, Sarah owned it.  She wasn't 90-years young!
Some of the hatred expressed towards Disney is that it portrays something unreachable and unattainable.  Every girl cannot be a princess, live as royalty, have nice things, live in a castle, etc.  It's unreal expectations.  Humanly speaking, I couldn't agree more.
Heavenly speaking, I couldn't agree LESS!
As Christians, we are already royalty.  1 Peter 2:9 says, "But ye are a chosen generation, a royal priesthood, an holy nation, a peculiar people…"  And, age is just a number.  When God wants to use you, nothing else matters.  Your age, financial status, education, geographical location, gender, ethnicity – none of that should be taken into consideration.
Princess Sarah laughed at how God wanted to use her.  Many Christians are laughing today, believing that since they have "passed their prime," they are no longer viable princes and princesses.
Au contraire, mon frere!  You are part of a royal family, children of the King, sons and daughters of God.  Live the part for the glory of the Lord.  Be His prince and princesses!