During the 19th to mi
d-20th c., Pittsburgh, PA was an industrialized city that produced iron, tin, brass, and glass. Railroad lines were built to accommodate this production and steam locomotives powered into the city on a daily basis.  As the 20th c. progressed, Pittsburgh became less industrialized.  One of the companies formed during this transition was on the other end of the spectrum of an industrialized city.  The company was Calgon.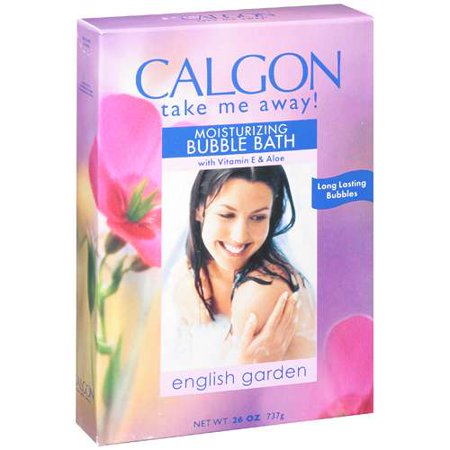 Originally, Calgon was a company that produced a water softening agent that you could add to your laundry.  Some of us are old enough to remember the commercial of a woman walking into a Chinese dry cleaner, asking, "How do you get the shirts so clean, Mr. Lee?"  He answered by saying, "Ancient Chinese secret."  Mrs. Lee is in the back and overhears her husband's response.  She scoffs and says, "My husband, some hot shot.  Here's his ancient Chinese secret, new and improved Calgon."
How many of you, though, remember another product Calgon made?  In the commercial, a woman laments, "The traffic!  The boss!  The baby!  The dog!  That does it!  Calgon, take me away!"  The next scene takes us to the same woman covered in the foamy suds of a Calgon bath, relaxing in a bath of "softened water that leaves skin silky smooth as it lifts your spirits.  The soft, luxurious world of Calgon."
Who doesn't love to relax in a bath full of bubbles after a hard day, especially in the winter?  For the men, you might feel a bit intimidated or turned off with the froufrou fragrances of your wife's bubble bath, laced with essential oils and other smelly stuff.  We might want to return to the simple and fun days of Mr. Bubble bubble bath.  Either way, it's just nice to relax.
Is this moment of relaxation and personal pampering improper or less than spiritual?  I would argue that it's not.  In fact, I would go so far as to say that it is necessary – not necessarily the bubble bath – but definitely the times of relaxing and resting.
Mark 6:30-31 says, "And the apostles gathered themselves together unto Jesus, and told him all things, both what they had done, and what they had taught.  (31)  And he said unto them, Come ye yourselves apart into a desert place, and rest a while: for there were many coming and going, and they had no leisure so much as to eat."
Let's define a couple of words.  First of all, the word "rest."  Thayer's Greek Dictionary says that the word means "to cause or permit one to cease from any movement or labour in order to recover and collect his strength; to give rest, refresh, to give one's self rest, take rest; to keep quiet, of calm and patient expectation."
Then, we have the word "leisure."  Again, Thayer's gives one of the meanings of this word to be "to give one's time to a thing."  The disciples had not previously given their time to a particular thing, that thing being a time to cease what they were doing, collect their strength, refresh, keep quiet, and rest.
There is an old saying that goes something like this:  You need to come apart so that you don't fall apart.  Jesus wanted His disciples to come apart for a time of rest so that they wouldn't fall apart.
Resting is NOT sinful.  We desperately need that time.  It is good for our physical, mental, emotional, and spiritual health.  In fact, it is necessary!
Today just might be the day that you apply the brakes and say, "ENOUGH! I have to rest." Put aside the electronics.  Let the answering machine take your calls.  Turn off the TV.  Take some time to eat, get some needed sleep, and spend some quiet time in God's Word and praying.  Maybe go for a walk while you pray.
And, if you like, add bubbles.