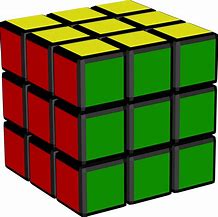 While parked at the high school a few weeks back, I saw a kid rapidly spinning the tiles of a Rubik's cube.  Within a day or two, one of the kids on my bus had a replica of a Stretch Armstrong.  Other retro toys that I've been seeing caused a dip into nostalgia and an idea for a devotional series was born.  And, with just a few weeks before Christmas, perhaps this trip down memory lane will spur you on to find some of these fun toys for the kids – regardless of how old the "kids" are.
The simplest way to describe the Rubik's cube is that it really is a cube.  Six movable sides are divided into 9 tiles per side, each with its own color (red, white, blue, yellow, green, and orange).  A row or column of three tiles can spin, allowing all the colors to get jumbled.  "The puzzle was originally advertised as having "over 3,000,000,000 (three billion) combinations but only one solution".  Depending on how combinations are counted, the actual number is significantly higher."1  Imagine that!  Billions of problems but only one solution!
Who was the genius behind this puzzle?  It was Hungarian Ernő Rubik worked at the Department of Interior Design at the Academy of Applied Arts and Crafts in Budapest.  In the midst of the 1970s, Rubik created his cube in order to teach his students about 3D objects.  As he jumbled up the colors, he realized he may have stumbled upon something more.
Next, the "cube" travelled to toy stores in Germany.  By May 1980, the United States latched on to the product and our capitalistic marketing sent sales through the roof!  Books were published to help young (and old) gamers figure
out the solution.
As the sales soared, so did the competitions.  The first Rubik's Cube World Championship took place in Budapest in June 1982.
As with all things, the Rubik's cube lost its pizzaz.  However, in early 2000, interest in this colorful cube began to swell once again.  By 2003, competitions had revived, seeing who could solve the cube conundrum the fastest.  The winner of this category goes to Du Yusheng of China.  On November 24, 2018, he accomplished a solve in 3.47 seconds at the Wuhu Open!   Some unique cube-solving categories were created:  one-handed, feet, blindfolded, and group.
Life is a lot like a Rubik's cube.  Life is colorful but don't let the pretty colors fool you.  There are a gazillion problems that we face in a life time.  Each of those problems has one answer and that is Jesus.
While that probably sounds cliché or trite to some, just stop and think for a moment.  Man's biggest problem is sin and its consequences.  1 Corinthians 15:20-22 says, "But now is Christ risen from the dead, and become the firstfruits of them that slept.  (21)  For since by man came death, by man came also the resurrection of the dead.  (22)  For as in Adam all die, even so in Christ shall all be made alive."
Our world is in desperate need for truth.  Again, Jesus is the answer.  "Jesus saith unto him, I am the way, the truth, and the life: no man cometh unto the Father, but by me." (John 14:6)  We are reminded in John 17:17 that "Thy word is truth."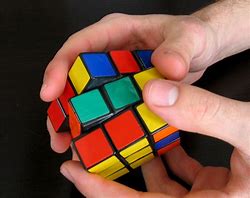 Struggling with other problems?  Jesus said, "These things I have spoken unto you, that in me ye might have peace. In the world ye shall have tribulation: but be of good cheer; I have overcome the world." (John 16:33)
The algorithms claim that there is only one solution to the Rubik's cube (apart from removing and reattaching all the color stickers).  The problems thrown at us in life should take us to one solution and one Problem Solver.
JESUS.
1https://en.wikipedia.org/wiki/Rubik%27s_Cube