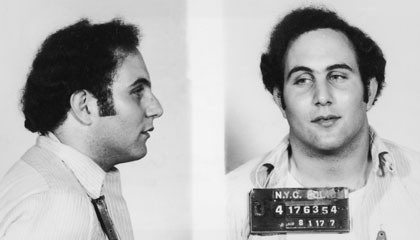 David Berkowitz spent many years being known as the Son of Sam Killer.  His crime spree lasted for many years and the killing spree took place just in one year.  I had heard references through the years to the Son of Sam Killer and just assumed that he killed the child of some individual named Sam.
How wrong I was!
David's entire life shows evidence of demonic oppression/possession. "In January 1976, he moved into a two-family home in Yonkers, a suburb of New York. Berkowitz became convinced that the German shepherd that lived in the house and other neighborhood dogs were possessed by demons who ordered him to murder attractive young women. One of the neighborhood dogs was shot during this time, probably by Berkowitz. He also began to see his neighbors as demons.
"In April, Berkowitz moved to an apartment house in Yonkers, but his new home also had dogs. His neighbor, retiree Sam Carr, had a black Labrador retriever named Harvey, who Berkowitz believed pleaded with him to kill. He also saw Sam Carr as a powerful demon and was referring to him when he later called himself "Son of Sam."1
After committing six murders and wounding nine, David was arrested on August 10, 1977.  Eventually, he would be sentenced to six 25-years-to-life sentences, the greatest punishment that could be handed down at that time by the state of New York.
The best part of the story is yet to come!
David writes, "Ten years into my prison sentence and feeling despondent and without hope, another inmate came up to me one day as I was walking the prison yard on a cold winter's night. He introduced himself and began to tell me that Jesus Christ loved me and wanted to forgive me. Although I knew he meant well I mocked him because I did not think that God would ever forgive me or that He would want anything to do with me.
"Still this man persisted and we became friends. His name was Rick and we would walk the yard together. Little by
little he would share with me about his life and what he believed Jesus had done for him. He kept reminding me that no matter what a person did, Christ stood ready to forgive if that individual would be willing to turn from the bad things they were doing and would put their full faith and trust in Jesus Christ and what He did on the cross by dying for our sins.
"He gave me a Gideon's Pocket Testament and asked me to read the Psalms. I did. Every night I would read from them. And it was at this time that the Lord was quietly melting my stone cold heart."2
On a night in 1987, David read what another David had written.  "This poor man cried, and the LORD heard him, and saved him out of all his troubles." (Psalms 34:6)  That verse at that moment was the final straw that broke David.  In his cell, he started praying, confessing, repenting, and calling on Jesus to save his soul.
Berkowitz had been diagnosed by medical professionals as a paranoid schizophrenic.  Drugs were given to keep him balanced.  However, it was Jesus who CURED David.  The drugs were not needed because Jesus saved and freed the soul of a demon possessed man.  Demons cannot remain in a house the Lord has cleansed and the place where the Lord has taken up residence.
"If the Son therefore shall make you free, ye shall be free indeed." (John 8:36)  "When I got up it felt as if a very heavy but invisible chain that had been around me for so many years was broken. A peace flooded over me. I did not understand what was happening. But in my heart I just knew that my life, somehow, was going to be different."3
Different it is!  David is not the Son of Sam but he is a child of God.  He has come up for parole many times and he has typically refused for his case to be heard, believing that he rightly and justly deserves to be where he is at until he dies.  On the rare occasions when the parole board reviews his case, David will take the opportunity to speak another apology to the families he hurt and to explain that he is using this time behind bars for the glory of the Lord.
"Many years have gone by since I had that first talk with the Lord. So many good things have happened in my life since. Jesus Christ has allowed me to start an outreach ministry right here in the prison where I have been given permission by prison officials to work in the Special Needs Unit where men who have various emotional and coping problems are housed. I can pray with them as we read our Bibles together. I get the chance to show them a lot of brotherly love and compassion.
"I have also worked as the Chaplain's clerk and I also have a letter writing ministry. In addition, the Lord has opened ways for me to share with millions via TV programs such as Inside Edition in 1993 and A & E Investigative Reporter in 1997, what He has done in my life as well as to warn others about the dangers of getting involved in the occult.
"I have also shared my testimony on several Christian TV programs such as the 700 Club in 1997, the Coral Ridge Hour (Dr. James Kennedy), and on Larry King Live in 1999. For all these opportunities I am most thankful, and I do not feel I deserve this."4
Prisoners cannot have websites so a church maintains a website for him.  The site and words of David sound like a fundamental evangelist preaching the message of freedom like Saul of Tarsus, a murderer in his own right, whose life was changed by Jesus and become better known as Paul.
God can redeem any life from the pits of hell.  Remember that whenever you are tempted to view someone as a lost cause!
1https://www.history.com/this-day-in-history/son-of-sam-arrested
2https://www.ariseandshine.org/testimony-translations.html
3Ibid.
4Ibid.