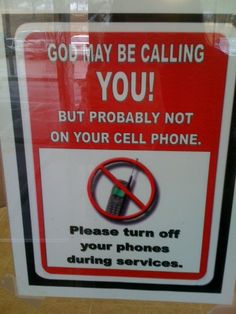 We are continuing our devotional series, looking at some theology found on church signs.  Sometimes, those short and pithy marquee messages pack a wallop!  They are "punny" yet potent.  A few signs even convey a wrong message which becomes a message in itself.   This opening paragraph and little disclaimer will accompany each devotional:  The use of the church sign's message in no wise constitutes an endorsement of the church or denomination.  With that in mind…
Technology is plentiful and we are inundated with its presence everywhere we turn.  Just think about this message regarding cellphones.
"God may be calling you but probably not on your cell phone.  Please turn off your phones during service."  What would we do without our cellphone?  It's become as important as our right arm.  However, its ring during a church service is like the incessant cries of the baby, the person who has to get up during every service, the fidgety person, and the people who "whisper" during a service.  It's a distraction!
Some folks will sit in the front of the church to avoid distractions.  However, audible distractions are inescapable.  While some will argue that they just can't be helped, I wonder how many have ever stopped to notice the crucial timing of those distractions.  Typically, they are when the sermon is making a point, when the Gospel is given, or during invitation.
In Jesus' parable about the seed and the sower, the seed is the Word of God.  One of the situations that the Lord describes is found in Matthew 13:19. "When any one heareth the word of the kingdom, and understandeth it not, then cometh the wicked one, and catcheth away that which was sown in his heart. This is he which received seed by the way side."
Satan can and does use distractions to steal the sown seed, pulling the hearts and minds away from what the Lord is trying to accomplish.  As we go to church this Sunday or Wednesday, let's be conscious of this, refusing to be the thing Satan uses to distract someone else.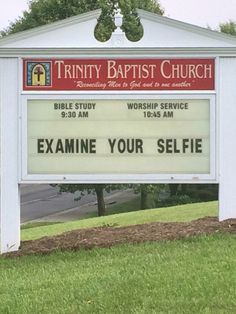 "Examine your selfie."  It's comical that the cellphone is used for just about everything except a phone.  I heard one comedian talking about the "phone app on his mobile device" – an app seldom used that ranks right up there with the Uber app in a rural community.
The last time we upgraded phones, the most important feature was the camera.  How many megapixels, what's the zoom factor, front camera vs. rear camera – all became selling points.  Now, we are not of the age where we feel it necessary to take selfies.  However, we will snap pictures of a lot of things and places we visit.  No pictures are carried in our wallets but there are plenty of pictures on our phones.
If you are into selfies, you will strike your pose (why must you do duck lips and the two-finger peace sign in every picture?!?).  Once the picture has been taken, you examine it.  If you don't like what you see, you delete it and take another.  The next step is to share it – everywhere – as if people forgot what you looked like and needed the reminder.
To the church of Corinth, Paul said, "Examine yourselves, whether ye be in the faith; prove your own selves. Know ye not your own selves, how that Jesus Christ is in you, except ye be reprobates?" (2 Corinthians 13:5).  As we "examine our selfie," is there enough Biblical evidence to convict us of being a true believer in Jesus Christ?  Or, are we just pretending, putting on silly clothing, funny hats, and striking the appropriate pose to make others think something about ourselves that isn't necessarily true?
The cellphone is a part of life.  Let it be a spiritual reminder of these truths.