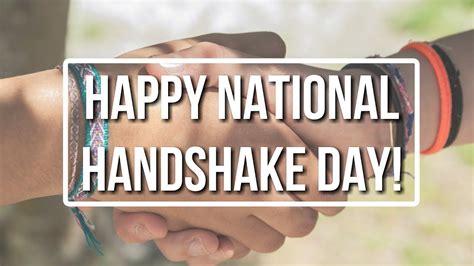 A kiss or a hug for a greeting are fine if you know the person and they are okay with such close contact.  However, there are few greetings safer and less intrusive or innocuous than the age-old handshake.  Today is National Handshake Day, a celebration started by Miryam Roddy on behalf of the BRODY Professional Development.  First impressions are key and Roddy believes that the handshake is crucial in creating a great first impression.
The hand and handshake convey a lot about a person.  Rough, calloused hands are the hands of a worker who knows physical work.  Farmers, landscapers, and factory workers have these hands.  Smooth, soft hands belong to those who are in the professional world, perhaps doctors, lawyers, executives, and office workers. Then, there is the delicate hand of a lady which reminds you that the Scriptures describe them as the weaker vessel.  You shake that hand gently and cautiously so as not to hurt her.
Now, think about the grip.  A good, solid, firm handshake speaks well of an individual.  However, there is nothing worse than the limp, pudgy, dead fish handshake, especially when delivered by another guy.  The other side of the coin features the guy who is known as Bone Crusher.  He puts the squeeze on you and you actually hear crunching and the popping of joints.
Hand shake styles are also unique to individuals.  You have the pumper that pumps your hand up and down aggressively.  You have the person who shakes like they are using a hand saw.  Instead of pumping up and down, they use a thrust-and-pull method.  Both styles have a tendency to shake longer than the comfortable range.
Then, there is the puller.  They think it's funny to pull you off balance as you're shaking hands.  The sense of humor of some is baffling!
Ugh!  The hand-hold-hand-shake.  You shake the person's hand and get ready to release but you feel their grip gently tighten to let you know that they aren't done with your hand and need it to carry on their conversation.  This is typically done by women and, truthfully, I can handle any of the handshakes except this one.  I don't like another woman holding my hand!
"While the exact origin of the handshake is not known, there are traces of pictorial evidence on pottery and
pressings, which show that the ancient Assyrians and Greeks used to clasp hands to seal a deal or indicate a peaceful approach. In medieval Europe, knights would clasp each other's arms in order to shake loose any weapons that might be up the other's sleeve, and a popular belief is that the handshake originated in Europe, due to the shaking part of the gesture that knights would use. By the 1700s, the Quakers came to use the handshake in preference to more deferential ways of greeting, such as the hat tip or bowing, because shaking hands conveys more of a sense of equality between both parties. Thus, the gesture began to gain popularity."1
In the church, we use the handshake as our usual greeting.  But it has a more significant meaning in certain instances than just serving as a greeting.  Galatians 2:9 says, "And when James, Cephas, and John, who seemed to be pillars, perceived the grace that was given unto me, they gave to me and Barnabas the right hands of fellowship; that we should go unto the heathen, and they unto the circumcision."
"To this day, a handshake or a clasping of the right hand or forearm is used as a way to affirm a promise, to seal a deal, to communicate mutual trust, or to enter a partnership. In the case of Paul and Barnabas meeting James, John, and Peter, the giving of the right hand of fellowship seems to also have included the idea of accepting someone into an existing group. It was a handshake of fellowship, after all.
"Within some churches today, the practice of extending the right hand of fellowship has continued, and it's often still called by the biblical terminology. As part of the process of welcoming new members into a local congregation, the "right hand of fellowship" is extended to a person who has expressed faith in Christ, has been baptized (or soon will be), or has expressed interest in church membership. This person is publicly recognized during a church worship service, and after the service existing members shake hands with him or her. The handshakes are part welcome, part congratulations, and part esprit de corps."2
Doesn't this make you look forward to Sunday and the opportunity to shake hands with your family?  Make it a good, Godly, firm-but-gentle handshake.
1https://nationaltoday.com/national-handshake-day/
2https://www.gotquestions.org/right-hand-of-fellowship.html