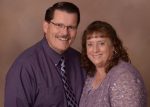 If you want to read the Reader's Digest version of my autobiography, read on!
This is my home church.  I was probably brought here a week after I was born and I haven't left yet!  Well, I was gone for a little bit — but I'm back!
Here's the bullet points:
graduated from Stryker High School in 1985;
went to the University of Toledo in the pre-med program;
called OUT of the pre-med program and into the ministry a year later;
married my college sweetheart (Vickie) in 1987;
had two daughters who are now adults;
graduated from Tennessee Temple University in 1991;
while in college, pastored Cherry Memory Baptist Church for 5 years;
after college, pastored Twining Baptist Church in Michigan for 3 years;
graduated from Andersonville Theological Seminary with my M.Div.
called back home in 1994 and have been here ever since!
What do I do for fun?  Besides spending as much time as possible with my family, I've been the Chaplain for the City of Bryan Fire Department for the past 12 years.  When the tones drop, you change hats and enter into another world.  It has been a great privilege to serve with this department. To relax, I drive school bus for Bryan City Schools.  That may sound impossible but I really enjoy my kids and "most" days, they make me smile!  Both activities have supplied unique evangelism and ministry opportunities.