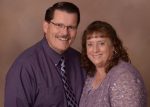 If you want to read the Reader's Digest version of my autobiography, read on!
This is my home church.  I was probably brought here a week after I was born and I haven't left yet!  Well, I was gone for a little bit — but I'm back!
Here's the bullet points:
received the Lord Jesus Christ as my personal Savior the first Sunday night of August when I was 12
graduated from Stryker High School in 1985;
went to the University of Toledo in the pre-med program;
surrendered to preach a year later as the Lord dealt with my heart;
married my college sweetheart (Vickie) in 1987;
had two daughters who are now adults;
graduated from Tennessee Temple University in 1991;
while in college, pastored Cherry Memory Baptist Church for 5 years;
after college, pastored Twining Baptist Church in Michigan for 3 years;
graduated from Andersonville Theological Seminary with my M.Div.
called back home in 1994 and have been here ever since!
What do I do for fun?  Besides spending as much time as possible with my family, I've been the Chaplain for the City of Bryan Fire Department for the past 14 years.   To relax, I drive school bus for Bryan City Schools.  That may sound impossible but I really enjoy my kids and "most" days, they make me smile!  Both activities have supplied unique evangelism and ministry opportunities.
I am extremely partial to our church but, honestly, I do not believe a better church family can be found.  It is a family filled with love, encouragement, friendship, and prayer warriors.  I count it a privilege and honor to serve here.