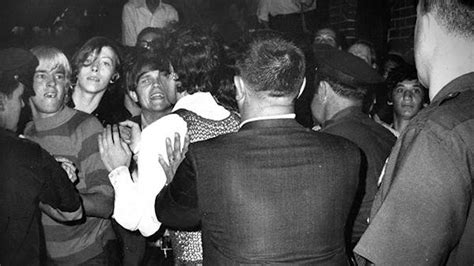 Sometimes, I am absolutely stunned when I read about something in history.  Solomon was right, though.  He wrote in Ecclesiastes 1:9, "… there is no new thing under the sun."
It all happened in the early morning hours of June 28, 1968 on Christopher Street in New York City.  Police had raided Stonewall Inn, a local club.  The police had every right to shut down the establishment.  There were multiple violations including the fact that they were serving alcohol without a permit.
Like striking a matching to a fuse, the dynamite didn't take long to explode.  What started as a simple raid that should have resulted in multiple arrests soon turned extremely dangerous as a riot broke out and many came to side of the patrons of the Stonewall Inn. Bottles were thrown at the police as tempers rose.   The riot spread to surrounding streets and order wasn't restored until 4 a.m. when the NYPD riot team was deployed.
Days of demonstrations took place after the riots.  Accusations were hurled at the police.  And, in 2019, the NYPD and the city of New York made a public apology for the raid.
This is where history stuns me.  This story sounds like it could have been written today.  What started the protests and riots was the fact that Stonewall Inn was a gay club.  And, the Stonewall Riots began the LGBT movement, marches, and the declaration of June as being Gay Pride Month.  The first Gay Pride Parade was held in 1970, one year after the riots, and it marched up 6th Avenue.
This battle has been raging in America for 53 years.  Prior to this, the battle was brewing.  You would be surprised how many television and silver screen stars were homosexuals but they stayed in the "closet" because the publicizing of their lifestyle would ruin their career.  Today, it would seem that people are rushing out of the closet to declare their status.
Even though the movement is going forward, God, His Word, and all who will stand for truth have remained
unmovable on the subject.  Romans 1, 1 Corinthians 6:9, 1 Timothy 1:10 as well as a myriad of Old Testament passages (ie. Genesis 19; Leviticus 18:22, 20:13) clearly teach that homosexuality is sin and an abomination (1 Kings 14:24).
While it seems that the voices speaking God's truth are shouted down by those in support of this lifestyle, we must remind ourselves of some verses of Scripture.  I close this devotional with these in hopes that you will allow the truths to saturate your heart and mind.
Isaiah 5:20  Woe unto them that call evil good, and good evil; that put darkness for light, and light for darkness; that put bitter for sweet, and sweet for bitter!
Proverbs 17:15  He that justifieth the wicked, and he that condemneth the just, even they both are abomination to the LORD.
But, there is GOOD NEWS for those who will live God's way.
John 8:32  And ye shall know the truth, and the truth shall make you free.
1 Corinthians 6:11  And such were some of you: but ye are washed, but ye are sanctified, but ye are justified in the name of the Lord Jesus, and by the Spirit of our God.
Stone1, 2