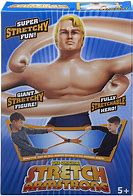 What do you get when you fill a latex blob with boiled-down Karo syrup infused with micron-sized bits of glass and wood?  You get the hottest selling Christmas toy to hit the market in 1976 – the Stretch Armstrong doll – uh, excuse me – Action Figure.
Jesse Horowitz was the design director for Kenner.  His job was to invent new toys that would pique the interest of James Kuhn, VP of Research and Development.  A basic prototype of a latex-molded figure was made and now, the question was how to get the latex to come back to its original shape once it was stretched.
Coiled springs were originally suggested.  However, the idea was quickly discarded because of how easily the coils could poke through the latex, creating a safety hazard for the child.  Kuhn, a chemical engineer, suggested boiling down Karo syrup until all the air was gone and filling it with the micron-sized particles of glass and wood for filler.  Once the correct viscosity was achieved and the prototype was filled with the gelatinous substance, the blob of latex could be pulled and stretched but would return to its original shape unharmed and with nary a stretch mark.
Next came the design of the toy.  A sumo wrestler was originally considered as well as a womanly shape to compete with the ever-popular Barbie.  Instead, the figure of a blond-haired muscle man was chosen, complete with molded black trunks and 6-pack abs.
This 10-inch superhero could be stretched up to four feet!  And, just in case Stretch got injured and a tear in his latex torso occurred, the original product came with 10 tiny bandages to place over his sore and to keep any more of his red-oozing innards from seeping out.
I would say that the toy was successful.  Its cost was only $11 but revenue from Stretch generated over $50 million in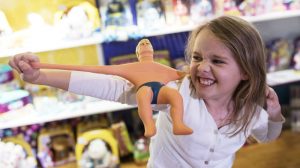 profits for Kenner.  A vintage Stretch can make you a healthy profit as well.  In mint condition, they have brought over $1000 at auction.
Remakes of the product have come and gone.  The latest resurgence began in 2016 and the toy is still available today.
Let's make a stretch for a Bible application.
Centuries ago, in the city of Capernaum, Jesus is questioned by the disciples of John and some of the Pharisees.  They wanted to know why the disciples weren't fasting.  Jesus gave one illustration and said that you don't put a new patch on an old garment.  His second illustration is what connects us to our opening story.
In Matthew 9:17, Jesus said, "Neither do men put new wine into old bottles: else the bottles break, and the wine runneth out, and the bottles perish: but they put new wine into new bottles, and both are preserved." 
New wine was the fruit of the grape.  As the juice was poured into the bottles – containers made of animal skins – it would naturally ferment.  The fermentation process gives off gasses which causes the vessel to swell.  Old skins rupture.  New skins stretch.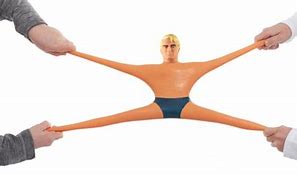 Paul wrote, "Therefore if any man be in Christ, he is a new creature: old things are passed away; behold, all things are become new." (2 Corinthians 5:17)  Then, Paul wrote to the church of Ephesus, "And be not drunk with wine, wherein is excess; but be filled with the Spirit." (Ephesians 5:18)
Jesus made us a "new vessel" at salvation so that His Holy Spirit could be poured into us, filling us, swelling us, stretching us to expansions we never could have imagined.  The Christian life filled with the Holy Spirit's control is able to stretch well beyond our natural gifts, talents, abilities, and inclinations.  We are stretched beyond what we think we can do.
Go back to Capernaum for a moment.  As Jesus is dealing with the questions posed by John's disciples and the Pharisees, He is alluding to an even greater stretch that they couldn't imagine.  The Jews and Gentiles who have accepted the Messiah would be considered one body!
Christianity introduced tension that could only be resolved by being made new in Christ.  The old invitation hymn says, "There's room at the cross for you."  The family of God is able to stretch to welcome in all who will come to Jesus and be filled with the Spirit.