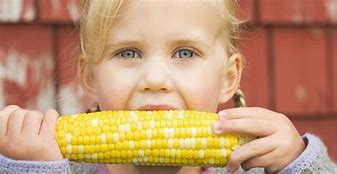 One of my favorite summer foods is corn on the cob.  And it is one of the most versatile vegetables from the garden, able to be used in a variety of ways.  We look forward to that first ear of the new year as we crunch, crunch, crunch a row from one end of the ear to the other.  Some are just too delicate and dainty to have the juices running down to their elbow with salty, buttery squirts hitting them in the eye so they will cut the corn off the cob.  To each their own.  There's no shame either way as you enjoy your corn on or off the cob.
But what else can we do with all that corn?  The freezer will only hold so many bags!  Here's some ideas hot off the Internet and cooking websites.
You could make corn cakes, corn relish, corn soups and chowders, corn risotto, corn salsa, creamed corn, sweet corn bread, corn salad, sweet corn fritters, and a number of other recipes from other countries with names I cannot pronounce.  A cornucopia of corn concoctions awaits the creative corn connoisseur!
By the time you are finished trying out these recipes, you will be left with a pile of useless cobs, the throw-away portion whose value has been expended.  Absolutely worthless!  Or, is it?
Edible possibilities include making corn stock by simmering the cobs in water with a pinch of salt.  I also found a 
recipe for corn cob jelly which is supposed to be delicious on biscuits or corn bread.  And, there are the South Dakota Corncob-Smoked Ribs that you could try.  Follow this link: https://mrclm.blogspot.com/2015/01/south-dakota-corncob-smoked-ribs.html
Another use is as a pot scrubber.  Let them dry out, use them once and throw them away.  No more nasty smelling sponges or scouring pads.
The crafty person can find all sorts of uses for corn cobs.  Sliced with a magnet hot glued to one side and a picture glued to the other side and you have a neat Fall decoration.
Ground up corn cobs are used for animal bedding.  Finely ground corn cobs are used as a polishing agent in the manufacturing of steel snow and ice shoes.  The metal parts are tumbled in the ground corn cobs, leaving a clean, shiny product after the process.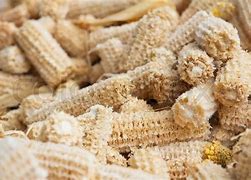 And, if nothing else, the cobs are a great fire starter for campfires as well as for the outdoor wood burners.
What's the point of the devotional?  In Proverbs 16:4, we read, "The LORD hath made all things for himself: yea, even the wicked for the day of evil."  And, in Revelation 4:11, we are told, "Thou art worthy, O Lord, to receive glory and honour and power: for thou hast created all things, and for thy pleasure [lit. thy purpose] they are and were created."
Through the years of my ministry, I have adamantly stated that God has a purpose for everything and just because I don't understand it doesn't mean it is without purpose.  As the years progress, scientists are discovering something that Christians should have known all along.  God doesn't make junk.  He doesn't make useless things.  All things have a Divine purpose – tonsils, gall bladders, appendix – even mosquitos and cockroaches.   Again, we have no idea what that purpose might be for the bugs but God knows.
We have become such a disposable society.  Things aren't made to last; they are made to be replaced.  That keeps th
e economy booming!  Is it possible, though, that we throw so many raw materials away without thinking that there has to be a purpose for it?
Before you just discard something as garbage, do a little research.  What purpose does that useless thing have?  Repurposing may be a matter of finding God's purpose and using it accordingly.