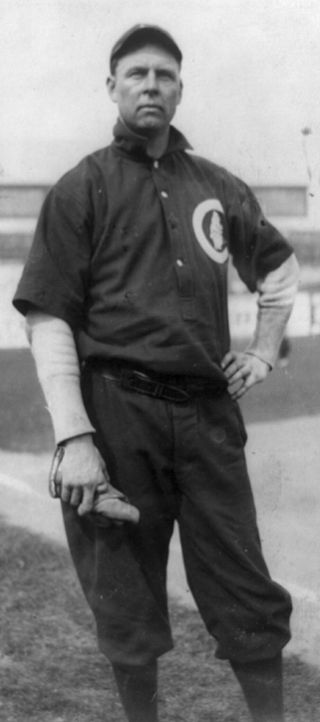 Mordecai Peter Centennial Brown was born on October 19, 1876 in Nyesville, Indiana.  The year of his birth was the centennial celebration for the founding of the United States, therefore, "Centennial" was given as one of his middle names.
Mordecai had several nicknames.  Some called him Miner because as a teen, he worked in the coal mines that had developed along the Wabash River.  Others called him Brownie, a play on the last name.  Relatives called him Mort.  His most famous nickname, though, was derived from a couple of accidents.
As a seven-year-old, Mordecai was walking by his father's corn shredder that was in use.  He must have thought, "Hmmm…I wonder what would happen if I stuck my hand in there?"  Curiosity got the best of him and he soon had an answer to his question.  Mordecai lost the index finger of his right hand, leaving him with barely a nub.
Not long after the loss of the finger, Mordecai was chasing a rabbit when he fell, badly mangling his right middle finger and paralyzing the pinkie finger.  From this time, Mordecai received the nickname Three Finger.
Educators, psychologist, and social engineers would have rushed to Mordecai's defense, blasting everyone who called him Three Finger, declaring that you should never point out a person's disability.  Rather than having his feelings coddled, he took his disability and showed that it couldn't keep him from great success.
Boys will be boys regardless of the time period and they seem to always be throwing something.  Mordecai was no different.  He could be found on lazy afternoons throwing rocks at the side of the barn, aiming for knot holes.  The more he threw, the better he got.  Throwing rocks soon turned in to throwing baseballs.
Mordecai's disability gave him an almost supernatural ability.  He was able to put a wicked spin and drop on the ball that confused hitters.  This ability developed and while playing for semi-pro teams in the area, Mordecai's abilities
were recognized by the St. Louis Cardinals.  He played there for a year before being traded to the Chicago Cubs where he spent the bulk of his professional career.
""It was a great ball, that downward curve of his," said Ty Cobb, owner of the game's best career batting average, of the curveball that evolved from Brown's misshapen fingers. "I can't talk about all of baseball, but I can say this: It was the most deceiving, the most devastating pitch I ever faced."1
"Brown's best seasons were with the Cubs. He helped them reach the World Series four times, including back-to-back wins in 1907 and 1908."2
Many articles written about Mordecai declare that he grew up in a very religious home.  What that specifically means is unknown.  However, it makes me wonder what verses of Scripture may have been used to encourage him as he learned to deal with a mangled right hand.
Perhaps Romans 5:3-5 was a help.  "And not only so, but we glory in tribulations also: knowing that tribulation worketh patience;  (4)  And patience, experience; and experience, hope:  (5)  And hope maketh not ashamed; because the love of God is shed abroad in our hearts by the Holy Ghost which is given unto us."  Of course, there is Romans 8:28.  "And we know that all things work together for good to them that love God, to them who are the called according to his purpose."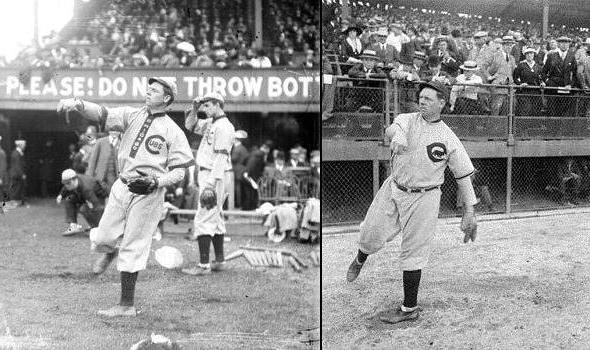 Scripture seems to indicate that we learn more from times of disadvantage than we do from times of advantage.  And, the times of disadvantage are pre-approved by our Heavenly Father.  There were no accidents nor was there "bad luck."
Mordecai stated that he thought he would have been a better pitcher were it not for his deformity.  History judges otherwise.  The deformity actually worked for good and taught him many life skills along the way.  Hall of Fame pitcher Ferguson Jenkins once said, "When you start out with a disadvantage, you have to work harder to do what others take for granted. In the end, that gives you an advantage."3  That's exactly what happened.
Mordecai "Three Finger" Brown was elected to the Hall of Fame in 1949.  Eighty-three years after his last game, he was selected as a finalist to the All-Century Team by Sports Illustrated. This was a team that included Babe Ruth, Lou Gehrig, Sandy Koufax, Bob Gibson, Yogi Berra, Honus Wagner, Ty Cobb, and Pete Rose.4
I would say he did alright for himself!
1https://baseballhall.org/hall-of-famers/brown-mordecai
2https://www.grunge.com/899416/how-a-gruesome-farm-accident-helped-mordecai-brown-become-a-hall-of-fame-pitcher/
3https://bleacherreport.com/articles/74888-mordecai-brown-the-spectacular-story-of-three-finger-brown
4Ibid.