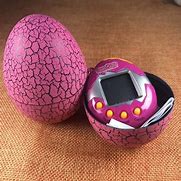 Tamagotchi!  No, I didn't bless you with a Japanese greeting.  In fact, this is a noun which roughly translates "Egg Watch" or "Egg Friend," depending on which etymology you believe is accurate.  Both definitions are real possibilities and even the Japanese aren't agreed.
Perhaps if you knew what it was, you would be able to say that both definitions are plausible.
In 1996, Akihiro Yokoi created the Tamagotchi digital game with a main marketing aim of young to teenage girls.  A gray-scaled pixelated egg appeared on the screen.  Setting the clock set into motion the lifecycle of your egg.  In a few minutes, your egg would hatch, giving you some kind of alien creature.  It is now your responsibility to care for your critter.
The screen displayed a health, training, discipline, and happy meter.  Three buttons on the devise allowed you to feed, teach, play with, and discipline your pet.  Too much or too little of any of these could be detrimental.  It was even possible to kill your pet, thus ending the game.
You would think that something this cheesy would have never caught on.  However, in the first two years, over 40 million devices were sold.  By 2021, 83.23 million have been sold.  The addictive craze caught on.  However, it went too far.
The early models did not allow you to pause the game.  Therefore, when kids got home from school, they found that their "pet" was dying.  What are they going to do?!?  Kids started taking the devices to school, tending to their "pet" during class time, causing disruption and distraction.  Many schools had to ban the devices.
Through the years, several versions have developed that were more "boy" friendly as well as a pet that wasn't an
alien.  They still required constant care but the ability to "pause" the game was a blessing to educators and parents alike.
The thought behind the Tamagotchi was teaching responsibility and duty.  I suppose that in many ways, the device accomplished this goal as kids excitedly showed their pet's progress to their friends.  However, caring for an electronic pet seldom translates well into caring for the real thing.
For a moment, set your Tamagotchi aside and focus on something of far greater importance.  It'll be okay.  Your puppy will be waiting for you when you get back!
The Scriptures are full of duties and responsibilities that the Christian should faithfully perform.  One such passage outlining some of those duties is Colossians 4:2-6, "Continue in prayer, and watch in the same with thanksgiving;  (3)  Withal praying also for us, that God would open unto us a door of utterance, to speak the mystery of Christ, for which I am also in bonds:  (4)  That I may make it manifest, as I ought to speak.  (5)  Walk in wisdom toward them that are without, redeeming the time.  (6)  Let your speech be alway with grace, seasoned with salt, that ye may know how ye ought to answer every man."
Other passages outline the Christian duty to forgive, love, give sacrificially, read their Bible, pray, be faithful in church, and a host of other things.  We must take these responsibilities seriously.  However, a danger lurks in our duty.
Philippians 1:14-18 says, "And many of the brethren in the Lord, waxing confident by my bonds, are much more bold to speak the word without fear.  (15)  Some indeed preach Christ even of envy and strife; and some also of good will:  (16)  The one preach Christ of contention, not sincerely, supposing to add affliction to my bonds:  (17)  But the other of love, knowing that I am set for the defence of the gospel.  (18)  What then? notwithstanding, every way, whether in pretence, or in truth, Christ is preached; and I therein do rejoice, yea, and will rejoice."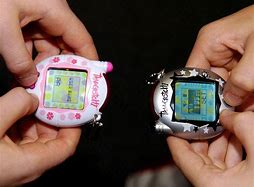 Preaching the Gospel is a good, righteous duty.  But after Paul was imprisoned, he recognized that there were some who had turned against him.  Their motives for preaching the Gospel were out of "envy and strife."  Some preached with "contention" and "not sincerely," hoping that this would cause "added affliction" to Paul.
Can we do the right thing for the wrong reasons?  Yes.  The Tamagotchi taught duty for the wrong reasons.  Love for a living pet was missing.  And, too often, our duty reflects that love for the living Lord is missing.
We need to diligently do our duty and fulfill our responsibilities for the Lord.  The motivation, though, for accomplishing these things must be an overwhelming love for the Lord.