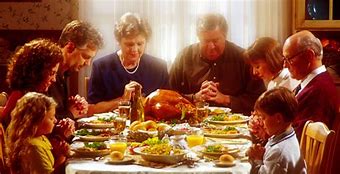 This is officially "Thanksgiving Week."  If you are blessed with family, you will sit around a table with them on Thursday to begin the seasonal feeding frenzy with all sorts of our holiday favorites:  ham, turkey, mashed potatoes, yams, green bean casserole, cranberry sauce, and a cornucopia of culinary concoctions and delectable desserts that makes the mouth water just thinking about it.
Inevitably, the family is called around the table and someone will say, "Before we eat, let's go around the table and say what we are thankful for."  Can you hear the collective groan?  There's nothing wrong with doing this.  But why NOW?  Why not while the Macy's Thanksgiving Day Parade was on?  Why not after we've eaten and we're too full to move?  Why now when hot foods are still hot, cold foods are still cold, stomachs are growling, and we're suffering from being a bit hangry.  Such a pause in our feast doesn't help the mood and make us feel more grateful!
In order to get an early start on Thanksgiving's thankfulness, the next few devotionals will focus on topics of gratitude.  Let's begin with gratitude for the salvation package.  What do I mean by "package?"
1 Peter 1:18-20 says, "Forasmuch as ye know that ye were not redeemed with corruptible things, as silv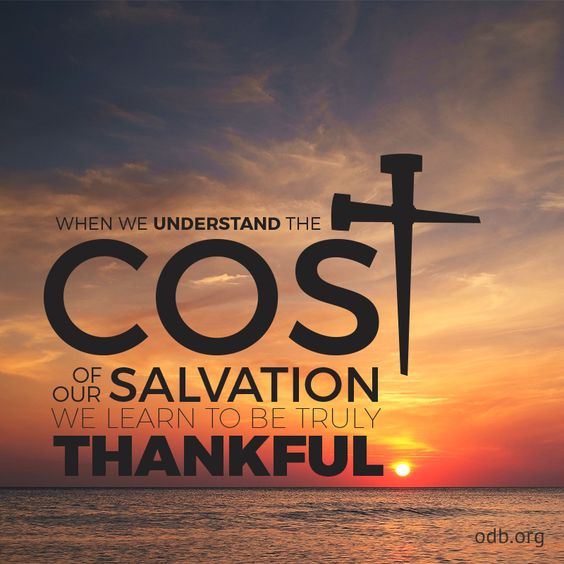 er and gold, from your vain conversation received by tradition from your fathers;  (19)  But with the precious blood of Christ, as of a lamb without blemish and without spot:  (20)  Who verily was foreordained before the foundation of the world, but was manifest in these last times for you."  Jesus was headed to Calvary BEFORE the world was formed and BEFORE Adam would introduce sin upon humanity.  I'm thankful that Calvary wasn't plan B.  It wasn't even plan A.  It was The Plan.
Now, we all know that plans change.  Circumstances may prevent us from fulfilling plans or desires change, leading us to do something entirely different.  That wasn't the case for Jesus.
In Romans 5:6, we read, "For when we were yet without strength, in due time Christ died for the ungodly."  "Thanks be unto God for his unspeakable gift."  (2 Corinthians 9:15)  We can be thankful that Jesus died according to His timing, giving up His life for ours.  He went through with the plan in its entirety.  And, He arose from the grave to be the Mediator of the plan.
You and I came on the scene approximately 2000 years AFTER Jesus died on the cross and an eternity past since The Plan.  Do you remember the day when you trusted Jesus as Savior, calling on His name in repentance and faith?  The hymn writer wrote, "Thank you, Lord, for saving my soul; thank you, Lord, for making me whole.  Thank you, Lord, for giving to me Thy great salvation so rich and free."
2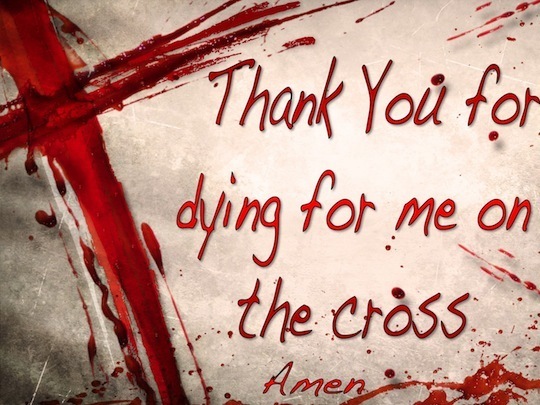 Thessalonians 2:13 says, "But we are bound to give thanks alway to God for you, brethren beloved of the Lord, because God hath from the beginning chosen you to salvation through sanctification of the Spirit and belief of the truth."  I am thankful for the day (actually, the night) when the Lord saved my soul.   After all these millennia, Jesus still honored His promise that "whosoever calls upon the name of the Lord shall be saved."
The "salvation package" isn't complete.  There was The Plan in eternity past.  There was crucifixion and resurrection of Jesus.  There was the day when He saved my soul.  But there is coming the day when we will be "delivered us from the wrath to come." (1 Thessalonians 1:10)  We will be whisked away to heaven in the twinkling of an eye where we will be with the Lord forever.
Imagine, if you can, what the day will be like when we get to be witnesses and participants of Revelation 11:15-17.  "And the seventh angel sounded; and there were great voices in heaven, saying, The kingdoms of this world are become the kingdoms of our Lord, and of his Christ; and he shall reign for ever and ever.  (16)  And the four and 
twenty elders, which sat before God on their seats, fell upon their faces, and worshipped God,  (17)  Saying, We give thee thanks, O Lord God Almighty, which art, and wast, and art to come; because thou hast taken to thee thy great power, and hast reigned."
A Christian's thanksgiving starts here.  Salvation is a package deal!