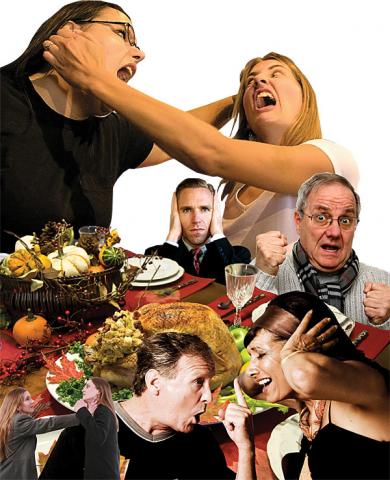 How do you spell stress?  For some, it is spelled F-A-M-I-L-Y.  And we are coming to the season where that stressful family is packed into one house with all their quirks, oddities, emotions, and sensitivities.  To say that you walk on eggshells is an understatement.  We go through this at Thanksgiving and in 29 days, we'll do it all again at Christmas.
Quite honestly, the women tend to feel the effects of this worse than the guys.  In the average home, the guys just show up to eat.  The women have planned menus to appease the gluten-free, lactose intolerant, vegans, vegetarians, and allergy-prone guests.  Hours go into cooking.  Finances are stretched.  Table settings have to be just right.  Guests are strategically placed in order to keep the ruckus down to a minimum.  All that she wants is for this to be a pleasant family get-together filled with love, joy, and laughter.  That's what she's worked for!
And, then, it happens.
Thanksgiving happens just 23 days after the election and the heated debates still continue.  Democrat Dave and Republican Ron are determined to make the other agree with them – or, at least, be the loudest at the table.
Oops!  Somebody didn't get the memo not to bring up Susie's failed relationship with her ex-boyfriend.  Now, tears are flowing and a portion of the table has grown silent and cold.
Rich Ralph can't stop bragging about his business prowess to Poor Paul.  Paul is feeling worthless and defeated as Ralph keeps pounding his chest.
Matchmaker Mary is bound and determined to get Spinster Sarah a man by Christmas.  The Thanksgiving table becomes an interrogation room, investigating Sarah's likes, dislikes, and analyzing past suitors.  Why are you being so picky, dear?  You're not getting any younger, you know.  The clock's ticking!
Committed Christian Carl is bound and determined that Atheist Alan, Agnostic Adam, and Compromiser Connie are all going to get right with God in between mouthfuls of mashed potatoes and turkey.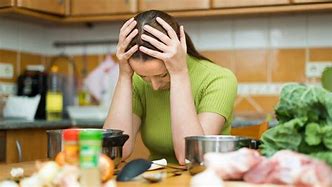 So much for a pleasant Thanksgiving dinner.  They all looked good coming but they look even better going!  You are exhausted, sad, mad, and there's still a sink full of dishes.
We have to admit that we may be a lot closer to our Christian family than to our earthly family because many of our earthly family members do not share our faith or Biblical values.  The Apostle Paul frequently expressed his thankfulness for his Christian family.  Consider these verses:
Romans 1:8, "First, I thank my God through Jesus Christ for you all…"
1 Corinthians 1:4, "I thank my God always on your behalf, for the grace of God which is given you by Jesus Christ."
Ephesians 1:15-16, "Wherefore I also, after I heard of your faith in the Lord Jesus, and love unto all the saints,  (16)  Cease not to give thanks for you, making mention of you in my prayers."
We definitely should love our earthly family.  But how much greater is it when our earthly family becomes our heavenly family?  Winning our family to Jesus should be a priority in our lives.
This Thanksgiving, make it a point to let your earthly family know that you love them.  "If it be possible, as m
uch as lieth in you, live peaceably with [them]." (Romans 12:18)  Encourage them to love each other.
But, also, let your Christian family know that you are thankful for them.  Send an encouraging note, text message, email, or really go old-school and call them on the telephone (it's that seldom used app on your Smart Phone).  A word of thanksgiving goes a long way!