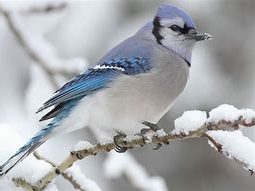 If you are an ornithologist, you are in a branch of zoology and a person who professionally or scientifically studies birds.  If you just have a set of binoculars and like to go to woodsy places, you are a birdwatcher or a "birder."
The Black Swamp Bird Observatory Field Checklist for Western, Lake Erie, and the Marsh Region of Ohio lists over 230 species of birds that can be seen.  While many of the birds are migratory, there are still an ample number of colorful birds that can be seen in the wintery months.
Many people will erect birdhouses.  European birdhouses were made during the 15th-16th c.   However, they didn't tend to be for the purpose of watching the birds.  They served as a way to catch the eggs – and sometimes, the birds themselves.  The Europeans saw the birds merely as a food source.
In America, the Native Americans created rudimentary birdhouses from birch.  The purpose was to attract the birds and protect them, revering them as a part of nature.  When the Colonists came to the east coast, the Native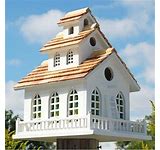 Americans eventually taught them their ways of "birding."  The Colonists, though, saw a benefit for the birds that valued their lives for another reason.  The birds served as pest control, eating bugs and small rodents.  Depending on the pest, houses were built to attract that particular bird.*
Today, birdwatching has become quite an industry.  According to the U.S. Fish & Wildlife Service, 2016 National Survey of Fishing, Hunting, and Wildlife-Associated Recreation National Overview (Issued August 2017):  "81 Million people participate in feeding birds and other wildlife; $5 Billion is spent annually on birdseed and wildlife food; $960 Million is spent annually on bird feeders, bird baths and nesting boxes; $1.8 Billion is spent annually on binoculars and spotting scopes; $7.6 Billion is spent annually on bird feeding and watching wildlife."**
Birds should get our attention for more than just appreciating their beauty.  Matthew 6:26 says, "Behold the fowls of the air: for they sow not, neither do they reap, nor gather into barns; yet your heavenly Father feedeth them…"  And, we read in Matthew 10:29, "Are not two sparrows sold for a farthing? and one of them shall not fall on the ground without your Father."
It's obvious that God cares for the birds.  But, why?  Aren't they just – well, you know– birds?  Messy?  Noisy?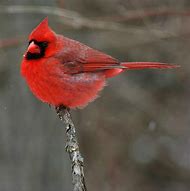 Nuisances?  And, how do they know when you just washed your car?!?  That, my friends, is a great mystery!!  I'm not a bird hater but why are these feathered flyers so important that God would feed them and notice one that has fallen to the ground?  Read Matthew 6 in its entirety.
Matthew 6:26, "Behold the fowls of the air: for they sow not, neither do they reap, nor gather into barns; yet your heavenly Father feedeth them. Are ye not much better than they?"  And, Matthew 10:30-31 says, "But the very hairs of your head are all numbered.  (31)  Fear ye not therefore, ye are of more value than many sparrows."
The context of Matthew's verses deals with worrying.  God says, "Why are you worrying?  I take care of and am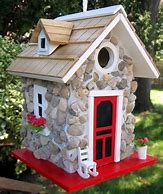 concerned about the birds.  How much more do you matter to Me?  After all, you are created in My image!"
A verse in the hymn Leave It There says, "Just remember, in His Word, how He feeds the little bird; Take your burden to the Lord and leave it there."  There's the song His Eye Is On The Sparrow and since it is, "I know that He watches me."
If I ever start to worry or wonder if God is going to take care of my situation, I need to grab my binoculars and go watch the birds.  They're not worried.  The Heavenly Father has them well cared for.  I'm pretty sure I'll be just fine!
*https://www.carriagehousefurnishings.com/a-brief-history-of-the-bird-house/
**https://franchise.wbu.com/training-support/