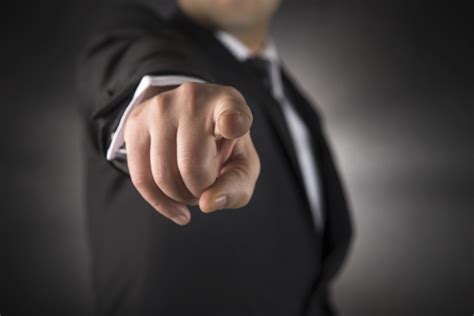 Anne Moeller of Clio, Michigan had a day like all of us have had.  It all began on Friday, May 13, 1982.  Yes, if we were superstitious, we would already point out that this is a Friday the 13th which is bad in and off itself.  However, superstitions are super stupid (sorry to be blunt) and should never have any say or control in our lives.
Anne's day started off late because her alarm clock didn't go off which made her late for – everything!  The domino effect cascaded through every appointment, putting the entire day behind schedule.  In spite of trying to catch up, nothing she did worked.  The entire day was spent blaming an alarm clock that did sound at the appropriate hour.
This is when the idea hit.  Let's have a National Blame Someone(thing) Else Day.  This national celebration happens on the first Friday the 13th of every year.  I'm not sure how national this is or how much celebrating takes place.  But, yesterday was May 13th – Friday the 13th and the first one of 2022.
I missed doing this story yesterday because Winston Churchill seemed more important.  See?  I've got the hang of this!  I'm blaming a dead Prime Minister's inaugural speech before Parliament as the reason for missing the actual day for National Blame Someone(thing) Else Day.
We actually do this all the time.  I'm angry because…someone cut me off while driving, my spouse did/didn't _______, etc.  My choice to be angry has been blamed on someone else.
Someone will go to a debt counsellor because their finances are in shambles.  "They blame the banks, the credit card companies, sales people, shopping malls and often say "not having enough time to be on top of it," is why they have financial difficulties."1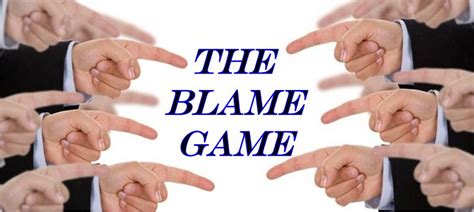 A kid gets a bad grade(s) and we know who is to blame for that – the TEACHER.  Parents will storm the classroom and confront that mean ol' teacher.  They have bullied my baby for the last time!  If they were more competent, my little darlin' wouldn't have gotten this grade.  Look at what this "F" has done.  My child's self-esteem is shattered!  They don't want to go to school anymore and it's all your fault!
Hmmm…it couldn't be that the child spent too much time in front of the TV playing video games or watching something that sucks the brain right out of their head.  It couldn't be that the child isn't applying themselves or asking for help when they struggle.  It couldn't be that dad and mom weren't available to help at homework time.  And, it certainly couldn't be that the child isn't paying attention in class.  It must be someone else's fault!
The government has perfected this to the level of a professional sport.  Rarely will the person at the top say, "This was my fault.  It was all my fault.  I exonerate everyone else and take sole responsibility."  That's laughable!  Instead, someone at the bottom of the food chain is going to become the scapegoat, tossed to the media wolves to have their reputations chewed up and spit out.  It won't be long before they resign or are removed from their position and they are left to figure out how to proceed in society.
Actually, we can blame this mentality on someone else.  After Adam and Eve sinned, God calls out to them in the cool of the Garden.  Genesis 3:9-13 says, "And the LORD God called unto Adam, and said unto him, Where art thou?  (10)  And he said, I heard thy voice in the garden, and I was afraid, because I was naked; and I hid myself.  (11)  And he said, Who told thee that thou wast naked? Hast thou eaten of the tree, whereof I commanded thee that thou shouldest not eat?  (12)  And the man said, The woman whom thou gavest to be with me, she gave me of the tree, and I did eat.  (13)  And the LORD God said unto the woman, What is this that thou hast done? And the woman said, The serpent beguiled me, and I did eat."
And, the blame game begins!
As sin, death, and all the other consequences of this day are passed down to humanity, we seem to have an innate blaming nature that must be constantly fought.  We try to hide our sins.  Once they are exposed, there is a desperate attempt to make excuses and cast the blame elsewhere.
To take responsibility is a sign of humility and maturity.  We have to own it.  If we are going to be saved, we have to admit that we are a sinner.  It's nobody else's fault.
If we are going to be sanctified believers, we have to admit that we sinned.  1 John 1:9 says, "If we confess OUR sins, He is faithful and just to forgive us OUR sins and to cleanse us from all unrighteousness."  We can't blame it one someone else.  And we can't say, "The devil made me do it."
While Adam and Eve (especially Adam) are to blame for introducing sin and its consequences, we each as individuals stand guilty before God.  The only way to be cleansed from guilt is to take personal responsibility and leave the blame game behind.
1https://www.avrahambyers.com/blame-someone-else-day/