A Google search for Optimist Clubs came up with this suggestion from Optimist International.  "There might be an Optimist Club in your area!"  The exclamation mark they put at the end of their sentence indicates their excitement and enthusiasm.  I can just see some perky, bubbly person telling me to Google search for an optimist club like it's Christmas morning and I'm about to open the gift of my dreams.
My immediate response when I read, "There might be an Optimist Club in your area!" was to mentally say, "I doubt it!"  Then I started to chuckle because that certainly was not optimistic and I'll bet I wouldn't be accepted in their club.
Supposedly, Defiance has an Optimist Club but no information is available, leading one to believe that the club has dissolved.  The closest clubs would be in Toledo, Lima, or Warsaw, Indiana.  Why am I looking for an Optimist Club?  Well, today is National Optimist Day — which ironically falls on Groundhog Day.  We are optimistic that the groundhog will NOT see his shadow, that we will NOT have six more weeks of winter, and that the groundhog is a better prognosticator of weather than the typical meteorologist!
Optimist clubs have been around since the beginning of the 20th century.  In 1909, it was suggested to celebrate the day on April 1st as an antidote to April Fool's Day pranks and antics.  Americans, though, wouldn't budge.  They wanted their day to play all three characters of the Three Stooges, embarrassing friends and family with juvenile pranks and jokes.
To show just how optimistic the Optimist Clubs were, they continued their efforts to have an Optimist's Day.  Clubs across the United States had regional celebrations on dates of their choosing until finally, "in 2013, Sylvain Levesque proposed that Optimist Day be celebrated on a specific day. Levesque was a member of the National Assembly and was also a part of the Optimist Club of Loretteville (Quebec, Canada).  His idea was accepted and a resolution was passed the same year at the Optimist International Convention to celebrate Optimist Day on the first Thursday of February."1
Does God want His children to be optimistic?  At first, we might say, "Well, of course He does!"  Perhaps, though, we need to take a closer look at optimism and what it really means.
"Optimism is "the tendency to expect the best possible outcome or to dwell on the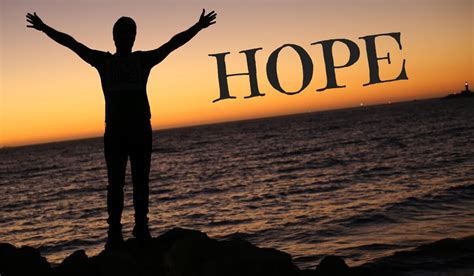 most hopeful aspects of a situation." Optimists usually feel that "good things" will happen in the future … By nature, most people tend toward either optimism or pessimism, regardless of their relationship with God. Everyone's glass is either "half full" or "half empty." So, optimism is not necessarily the same as faith in God. It can be a natural personality trait that has nothing to do with faith.
"Worldly optimism is not based on faith in God. Many unbelievers simply refuse to worry because life is more pleasant that way. "Don't worry; be happy" is their motto. They may place their faith in any number of lesser gods, such as karma, denial, the "universe," or intentional ignorance … Optimistic people find more enjoyment in life and are usually more pleasant to be around because they refuse to worry about things they cannot control. However, simply because a person appears optimistic does not mean that he has great faith in God or that her faith is appropriately placed."2
Psalms 43:5 says, "Why art thou cast down, O my soul? and why art thou disquieted within me? hope in God: for I shall yet praise him, who is the health of my countenance, and my God."  And, in Romans 15:13, Paul said, "Now the God of hope fill you with all joy and peace in believing, that ye may abound in hope, through the power of the Holy Ghost."
A Christian's hope is not "the power of positive or wishful thinking."  Instead, it is a firmly grounded confidence in God.  We are to have a hope that is "built on nothing less than Jesus' blood and righteousness."  Optimism focuses on attitude and outcome.  Hope focuses on Jesus and His will being done.
Will this hope cause us to have a rosier outlook on life compared to others?  It should.  We know that God is in control of everything.  Our hope – our faith – is in God and we know that we can trust Him.  But, while optimism sees things working out like we want, hope sees things working out the way God wants.
Christian, don't worry about being an optimist.  Just have a firm hope in God and your attitude will exude joyfulness, regardless the situation.
1https://nationaltoday.com/optimist-day/
2https://www.gotquestions.org/Bible-optimism.html