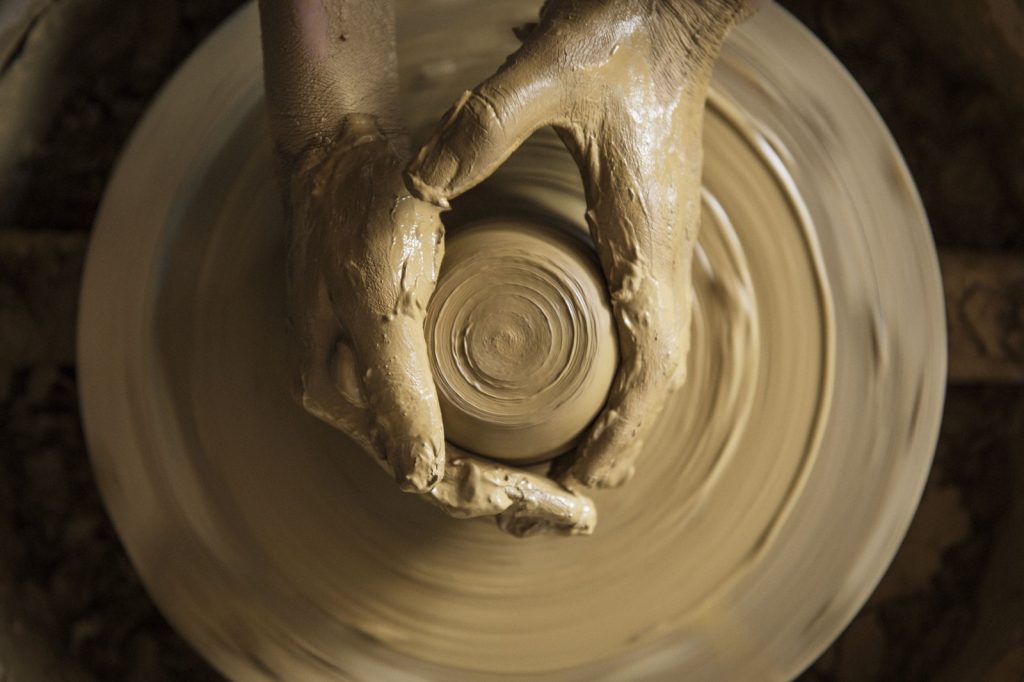 If you take a trip to Sauder Village in Archbold, one of the best places to go is to the Brush Creek Pottery building.  Resident potter, Mark Nafzinger, makes some amazing contemporary as well as traditional pieces.  You could spend hours watching him turn a lump of clay into a work of art.
As a kid, I always looked forward to working with clay in Mr. Fiely's art class.  For those of us who could have cared less about drawing or painting, this was right up our alley!  Funny thing was, we tended to make a lot of bowls.  Maybe this was because all of our attempts at making mugs were so sad to look at and we could pull off a bowl fairly easily.  The bowl was great for those of us with shallow imaginations and artistically challenged.
On my desk at church as well as in my home office, I have two pieces of pottery that are special to me.  Both came from Honduras and from Bro. Alan Jackson.  While we were there on a mission trip, we stopped at a local shop that had shelves and rows full of pottery.  Up on a hill, the potter was hard at work.
It was a privilege to walk up that hill and watch this man work.  His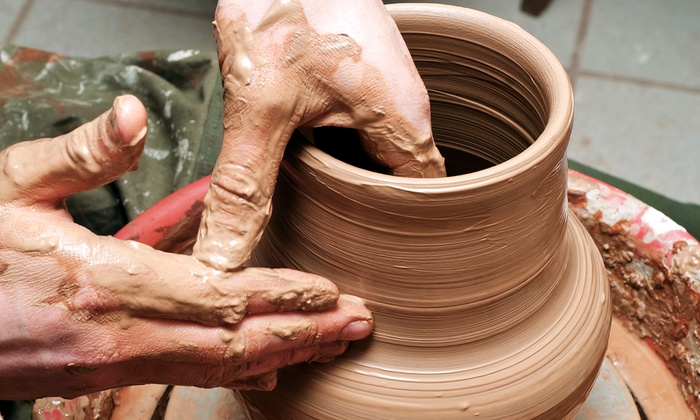 "shop" was the humblest of places.  The journey up was a bit treacherous.  OSHA would not have approved but when you're in a third-world country, you do what you have to do!
Like many of the Hondurans, he had the look of being impoverished, although he was probably considered wealthy by their standards.  He sat at a homemade kick wheel and the kick wheel was a tire from a large truck.  His barefoot kept the wheel spinning as he worked.
From a bucket, he drew out a small lump of clay and threw it unceremoniously upon the spinning table.  He wet his hands in another bucket and cupped a small amount to the spinning table.  As he worked the table and wheel, it wasn't long before that lump had mushroomed.  Skillfully, he used his hands to hollow out the mushroom, turning the clay into some type of container –  probably a mug or vase.
He pulled out some simple sticks that looked like bamboo skewers and started doing intricate detail work.  Then, a piece of wire or string was drawn between the table and the clay, freeing the clay from its sticky attachment.  His creations were placed on a rack where they would air-dry.  In time, they would be placed in a kiln and fired to extremely high temperatures.  The firing process hardens the clay, making it usable for a variety of applications.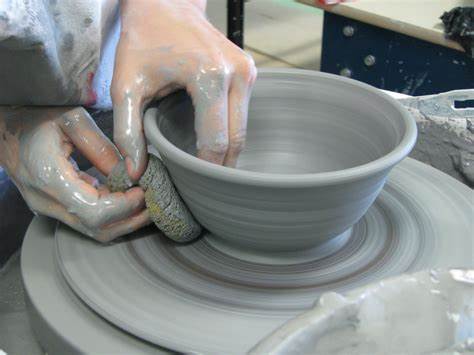 This man was a master craftsman!  However, there is a different pottery shop we should enter and observe a different Master.
"Then I [Jeremiah] went down to the potter's house, and, behold, he wrought a work on the wheels.  (4)  And the vessel that he made of clay was marred in the hand of the potter: so he made it again another vessel, as seemed good to the potter to make it.  (5)  Then the word of the LORD came to me, saying,  (6)  O house of Israel, cannot I do with you as this potter? saith the LORD. Behold, as the clay is in the potter's hand, so are ye in mine hand, O house of Israel." (Jeremiah 18:3-6)
We are that lump of clay in the Potter's hands.  However He chooses to fashion us and for what purpose is His to decide.  Too often, we are guilty of complaining or wishing that we had been fashioned differently.  Romans 9:20
says, "Nay but, O man, who art thou that repliest against God? Shall the thing formed say to him that formed it, Why hast thou made me thus?"  To shorten Paul's statement, Paul says, "Who do you think you are?!?"
Never should we compare or measure ourselves by someone else.  Instead, we measure ourselves against God's standard and His plan for our lives.  Are we being used to the fullest capacity for the intent God made us?  Are we yielded for God to continue to do with us as He pleases?
The lump of clay in the bucket is unimpressive.  But after a little time on the potter's wheel and time in the potter's hands, it's amazing what develops.  Be pliable as the Potter works on you today.