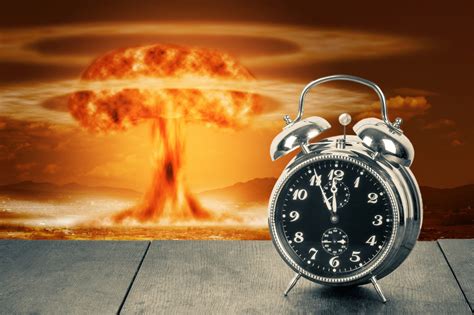 Lately, the news has been unnerving many Americans, giving them a feeling of hysteria and the need to prepare for "doomsday."  The Bulletin of Atomic Scientists headline reads "A time of unprecedented danger:  It is 90 seconds to midnight."1  According to these scientists, we are closer to global tragedy than we've ever been before.
I confess that I am baffled by the lunacy of some people as fear seems to strip every ounce of common sense away.  Some of you are old enough to remember the school drills where we practiced hiding under our flip-top desk with our hands over our heads in order to protect us during a nuclear attack.  I'm sure that would have worked!
Nothing has changed after all these years.  After the news reports tell us about alleged UFOs sighted by military planes, spy balloons being shot out of the sky along with other mysterious objects, an epidemic of train derailments, Russia's ongoing war with Ukraine, and the threats made against the U.S. by Russia, China, North Korea, and a host of Middle Eastern nations, 15 million Americans are preparing.  Sort of.
A new TikTok trend has videos of people showing and telling what they are doing to get ready for the Apocalypse.  Bags of food and water have been stored along with medications in the event that the infrastructure of our nation collapsed.  Others shared more personal items they thought would see them through a doomsday disaster:  a bunch of guns, hot sauce, favorite sneakers to match your outfit, cash, mascara, chap stick, something for the breath, and a few other peculiar items.  One man who I would guess to be in his 50s is going to pack Legos so he has something to play with.2
I know that these comments are not a reflection of all Americans but if you've been around a few, you might conclude that we are 1) a narcissistic society and 2) a not-so-brilliant society.  Allow me a moment to poke at these responses before getting into the devotional.
In the video, people held up a duffle bag that's the size of what kids carry to school.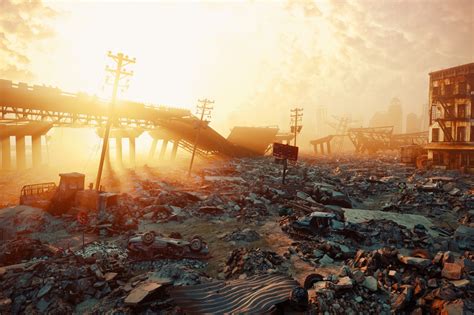 How much food and water do you actually think you can carry in that bag?  Doomsday hits.  Do you think the grocery store is going to be up and running in a couple of days?  Did you learn nothing from 2020 and the whole "supply chain" issue?
A bunch of guns?  Seriously?!?  If doomsday has come, it was created by something much bigger than your pea-shooter.  What good are those guns going to do?  Oh, you're going to defend yourself!  FYI…you bought yourself maybe an extra second or two but if someone comes looking for you, there's a lot more of them than you.  What do you really think is going to happen?  Think it through carefully.  Process the scene.
The rest of the items mentioned are ludicrous!  Doomsday is NOT a fashion show.  Nobody is going to care if your shoes match your outfit, sweetie!  They won't be sniffing your breath.  Mascara will be the least of your worries.  Cash?  What exactly are you going to buy?  Where are you going to buy it?  And, Legos, sir?!?  If you're an adult and the first thing that comes to your mind to put in a doomsday bag is Legos, I think you have more immediate problems than doomsday!!!!
Alright, back to the devotional.  I hope that Christians reading this are not freaked out and panicking about an alleged "doomsday."  Yes, I believe we are facing another global war that is going to be here sooner rather than later.  Yes, I believe America is about to collapse financially.  Yes, I believe America could be plunged into a famine.  I am not ignorant of the conditions we are facing.
When you read the account of the last days recorded in the Revelation 6-18, it sure does sound like a doomsday.  God's seal, trumpet, and bowl judgments are poured out across the world.  Fire and hail are falling from Heaven, plagues of disease are destroying everything living, the sun is blistering the planet, darkness fills the air, and we can only imagine the screams of terror during those seven years of tribulation.  Two important things have to be observed.
First, there is a way and only one way to escape this.  Consider these verses:  "Jesus saith unto him, I am the way, the truth, and the life: no man cometh unto the Father, but by me… For whosoever shall call upon the name of the Lord shall be saved… There is therefore now no condemnation to them which are in Christ Jesus, who walk not after the flesh, but after the Spirit… Much more then, being now justified by his blood, we shall be saved from wrath through him… For the Lord himself shall descend from heaven with a shout, with the voice of the archangel, and with the trump of God: and the dead in Christ shall rise first:  (17)  Then we which are alive and remain shall be caught up together with them in the clouds, to meet the Lord in the air: and so shall we ever be with the Lord."  (John 14:6; Romans 10:13;  Romans 8:1; Romans 5:9; 1 Thessalonians 4:16-17)
Second, GOD is the One who destroys the earth, not man.  This happens AFTER the Rapture, AFTER the Battle of Armageddon, and AFTER the Millennial Reign.  2 Peter 3:10, 12-13 says, "But the day of the Lord will come as a thief in the night; in the which the heavens shall pass away with a great noise, and the elements shall melt with fervent heat, the earth also and the works that are therein shall be burned up.  (11)  Seeing then that all these things shall be dissolved, what manner of persons ought ye to be in all holy conversation and godliness,  (12)  Looking for and hasting unto the coming of the day of God, wherein the heavens being on fire shall be dissolved, and the elements shall melt with fervent heat?  (13)  Nevertheless we, according to his promise, look for new heavens and a new earth, wherein dwelleth righteousness."
One thing is in my doomsday bag – salvation.  What's in yours?
1https://thebulletin.org/doomsday-clock/
2https://www.foxnews.com/video/6321146683112