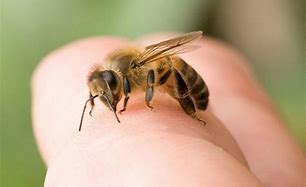 Let's finish off this week of devotions with one more lesson centered around Apis mellifera, the domesticated western honey bee.  This one will be painful to even consider!
If you entered an apiary, you have entered a "bee yard," a place where bee hives would be kept.  You would probably expect to occasionally see someone in there wearing a beekeeper's suit, smoking the bees to tranquility in order to collect the honey safely.  If someone was in there in the normal clothing, you would think the person was crazy – or Greek!
The ancient Greeks practiced apitherapy.  Dating back to the days of Hippocrates, the Greeks believed that bee venom had curative properties.  Allowing themselves to be stung, the Greeks taught that bee venom contained anti-inflammatory properties that would help with arthritis and other joint issues.  Instead of rolling up their sleeve for an injection from a hypodermic needle, they let bees deliver the shots.
Even though the FDA has not approved it, apitherapy (bee venom therapy) is still practiced by some across the world, however, the method of receiving the injection has been modernized.  Very few still allow the bees to sting them directly.  Instead, a doctor will inject you with the venom.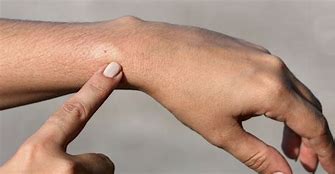 It should be obvious that there are drawbacks to this.  Besides the pain and irritation caused by the bee sting, there is the possibility of anaphylactic shock.  Having your airway narrow causing difficulty breathing seems like a huge gamble to get relief from arthritic pain.  Even though this is rarely practiced in the U.S., it is very common in Asia, Eastern Europe, and South America.
The truth that many have come to is this:  if you are hurting bad enough, you will try just about anything.  Nothing is too extreme to get relief.  If only we had the same attitude about sin!
Matthew 5:27-30 says, "Ye have heard that it was said by them of old time, Thou shalt not commit adultery:  (28)  But I say unto you, That whosoever looketh on a woman to lust after her hath committed adultery with her already in his heart.  (29)  And if thy right eye offend thee, pluck it out, and cast it from thee: for it is profitable for thee that one of thy members should perish, and not that thy whole body should be cast into hell.  (30)  And if thy right hand offend thee, cut it off, and cast it from thee: for it is profitable for thee that one of thy members should perish, and not that thy whole body should be cast into hell."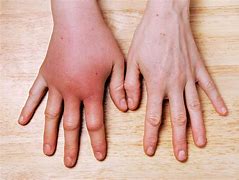 The Lord isn't recommending self-mutilation.  What the Bible is saying is that "desperate times call for desperate measures."  To what length are we willing to go to defeat sin in our life.
Jesus uses the illustration of lust.  Has the pain of that sin in your life gotten to the point where you are willing to do anything to get rid of it?  Have you hit rock bottom where you would disconnect from the Internet, get rid of the television, stay away from the swimming pools and beaches, get a boring old flip phone, or drive a different route so you don't have to see that billboard?  Or, are you still saying that you can handle it?
If we hurt bad enough, we are going to be willing to try anything!  Maybe you say, "What pain is going to come from my lust so long as I'm not acting on it?"  An old saying has been attributed to Ralph Waldo Emerson:
"Sow a thought and you reap an action; sow an act and you reap a habit; sow a habit and you reap a character; sow a character and you reap a destiny."
James 1:13-16 says, "Let no man say when he is tempted, I am tempted of God: for God cannot be tempted with evil, neither tempteth he any man:  (14)  But every man is tempted, when he is drawn away of his own lust, and enticed.  (15)  Then when lust hath conceived, it bringeth forth sin: and sin, when it is finished, bringeth forth death.  (16)  Do not err, my beloved brethren."
Sin will sting you and there is no curative power in its venom.  Only greater pain, sorrow, and heartache.
As we continue through Spring and enter Summer, we're going to get stung.  Let's just be sure that it's from a bee and not from sin.  And, common sense says to avoid them BOTH!
www.listverse.com/2021/03/05/top-10-horrifying-ancient-medical-practices-we-still-practice/