Let's take today's devotional to the bathroom.  Some of you are already there!  Now, look in the mirror and open wide.  Most adults will have 32 teeth and there are four types of teeth.  Have you ever wondered about the names and why they have those names?
The first four teeth on the top and bottom are called incisors.  Think of them as the scissors of the mouth.  When you bite into your food, they do the cutting due to their sharper edge.
To help with this, the Lord gave us canine teeth.  We have one on each side of the incisors, top and bottom, for a total of four.  They look like a dog's tooth, hence the name.  The sharp point provides a ripping effect as we bite into the food.
The bicuspids are the next two teeth on each side of the canines.  Bi- means two.  Cusps means points.  Your bicuspids have two points and are the premolars.  To define molar, just think of munching.  Incisors and canines cut and bite.  Molars munch.  They grind up the food, making it easier to swallow and are a part of the first stage of the digestive process.
All of these names make perfect sense, right?  So, who came up with the bright idea to call the final molars – two on the top and two on the bottom – our wisdom teeth?  They are hidden in the back of our mouth, they get infected or impacted and have to be removed, and if they really are all about wisdom, why aren't they out in front where they can be seen?
"Third molars have been referred to as "teeth of wisdom" since the Seventeenth Century and simply "wisdom teeth"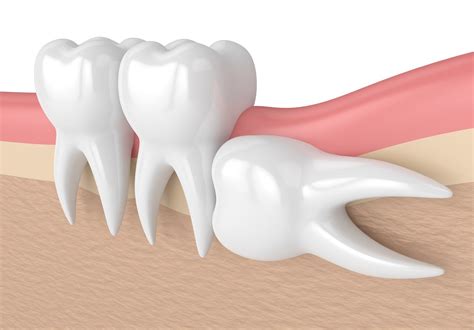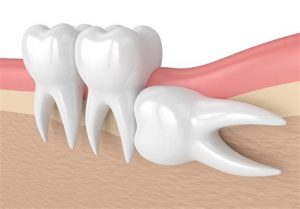 since the Nineteenth Century. The third molars generally appear much later than other teeth, usually between the ages of 17 and 25 when a person reaches adulthood. It is generally thought among linguists that they are called wisdom teeth because they appear so late, at an age when a person matures into adulthood and is "wiser" than when other teeth have erupted.
"Lately, science has added some credence to the idea that the third molar does indeed erupt when a person is "wiser". Recent research has shown the brain continues to grow and develop right on through adolescence: in fact, most researchers believe the brain does not reach full maturity until the age of 25."1
While linguists, scientists, and those who work in the field of dentistry may have figured out the meaning of "wisdom teeth," they erroneously equate wisdom with brain development.  We can all think of glaring examples of those well beyond 25 who don't have any more wisdom than they had as a toddler.  And, we have seen some young individuals with wisdom well beyond their years who haven't even begun to cut their wisdom teeth.  So, what exactly is wisdom?
By definition, Webster's 1828 Dictionary says that wisdom is "the right use or exercise of knowledge…In Scripture theology, wisdom is true religion; godliness; piety; the knowledge and fear of God, and sincere and uniform obedience to his commands. This is the wisdom which is from above."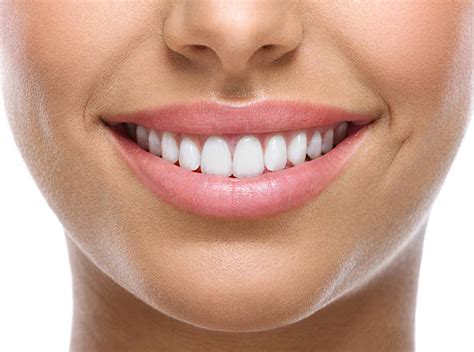 Psalms 111:10 says, "The fear of the LORD is the beginning of wisdom: a good understanding have all they that do his commandments: his praise endureth for ever."  Proverbs goes on to extol the merits of this wisdom.  "For the LORD giveth wisdom: out of his mouth cometh knowledge and understanding.  (7)  He layeth up sound wisdom for the righteous: he is a buckler to them that walk uprightly…  (10)  When wisdom entereth into thine heart, and knowledge is pleasant unto thy soul;  (11)  Discretion shall preserve thee, understanding shall keep thee." (Proverbs 2:6-7, 10-11)
Have you had your wisdom teeth removed?  No worries.  Those teeth are not the well that held that wisdom.  God puts it far deeper than an impacted third molar!
1https://www.deardoctor.com/dentistry/blog/why-are-they-called-wisdom-teeth