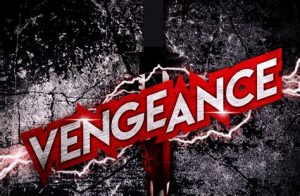 "Revenge is a dish best served cold."  I always thought that was a bit of an odd saying.  What exactly does it mean?
"The meaning of the proverbial phrase "revenge is a dish best served cold" is that taking revenge at a later date is more satisfying that enacting it immediately.
"Taking revenge later means you have time to premeditate your revenge to perfection instead of acting in haste. The saying means that the longer you wait to take revenge, the more satisfying it is when you do."1  People take their vengeance is some interesting ways.
One person was bringing donuts to work.  Food thieves would just help themselves.  If they would have asked, the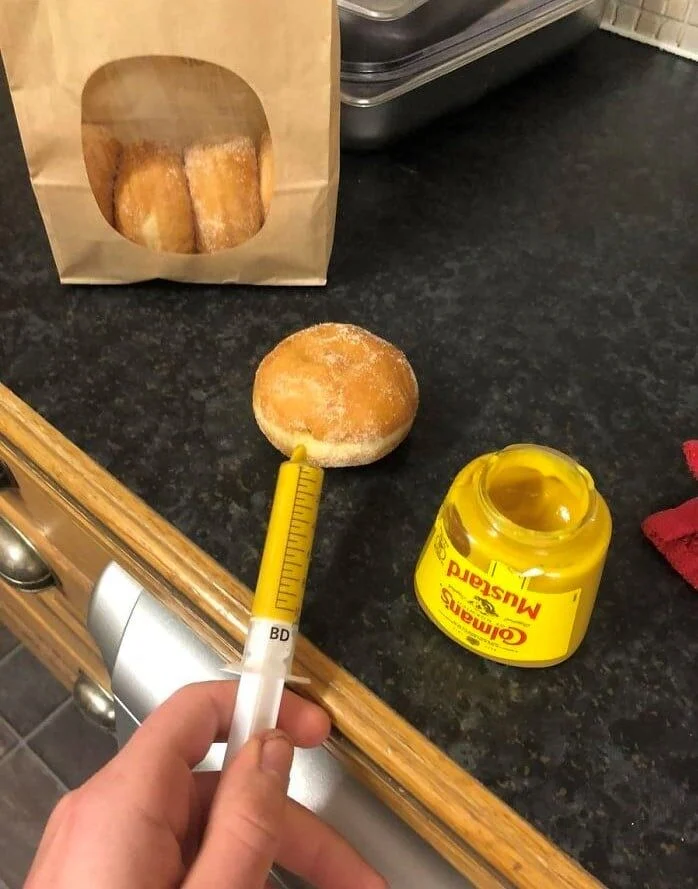 worker would have been happy to share.  However, after the third donut-napping, he decided to do something.  Donuts are good and mustard is good.  Together?  Not so good.  The man took a pastry injector and filled a bunch of donuts with mustard.  I would imagine there was only one more donut stolen and the problem was cured.
Another situation is one in which we've all found ourselves.  We thought we had found a parking space, only to realize that another driver doesn't know how to park.  They have straddled the line or parked at an odd angle.  One person had had enough!  They zip-tied a shopping cart to the offending car's door handle.  Another person in a similar situation took a different approach and boxed the offending car in with a string of shopping carts on all sides.  And, one more annoyed individual must have had some sidewalk chalk in their car.  They drew parking lines on each side of the car and on the pavement, they wrote, "There you go."
A wife got her revenge on her husband who complained that she always packed him the same lunch every day.  When he got to work, sure enough, it was another ham and cheese sandwich – but with a twist.  When he bit into it, he knew something was wrong.  His wife left the cellophane wrap on the cheese and wrote a note on the slice:  NOT SORRY.
Matt pulled a prank on his brother.  Each year, the brothers would try to wrap the other brother's Christmas present so that it would be difficult to open.  On this Christmas, Matt wrapped his brother's present in many layers of duct tape.  A year later, Matt was in for a surprise as his brother took the prank to the next level.  Matt's present had been wrapped in concrete.  Just to show that this wasn't malicious, a hammer was provided.
One more example takes us back to a parking lot.  It's always annoying to find the person who parks in crosswalks.  Must of us just growl about it under our breathe.  One customer, though, had all she could take.  A person driving a white BMW must have thought they had VIP privileges and they parked in the crosswalk.  The woman took a jar of red jam from her grocery sack and emptied the contents all over the car, smearing it everywhere.  The car looked like
it had been used to slaughter something!2
There is a difference between a prank and an act of vengeance.  Matt and his brother were enjoying the pranks played on each other.  The rest of the examples, though, would probably fit into the vengeance category.  We can surely sense the difference in attitudes in each case.
Can a Christian enact some justified vengeance like in the examples above?  We are told in Romans 12:19, "Dearly beloved, avenge not yourselves, but rather give place unto wrath: for it is written, Vengeance is mine; I will repay, saith the Lord."  A similar reminder is found in Hebrews 10:30.  "For we know him that hath said, Vengeance belongeth unto me, I will recompense, saith the Lord. And again, The Lord shall judge his people."
As a Christian, I do not have the right to take vengeance.  I do not have the right to retaliate.  Such actions would go contrary to the clear teaching of Scripture.  Instead, I have to give the situation over to the Lord and let Him handle it.
Trust the Lord.  He will handle the situation a whole lot better than we would.
1https://english-grammar-lessons.com/revenge-is-a-dish-best-served-cold-meaning/
2https://en.12up.com/view/?id=satisfying-revenge-acts-12u&src=gemini&page=19