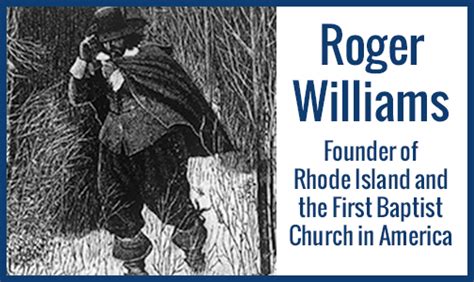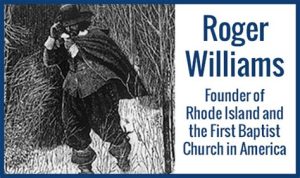 As our church family comes to church this morning, we welcome them to First Baptist Church.  I've often wondered if we were the first Baptist church in Bryan, hence the name.  Scattered all over the United States, there are many First Baptist Churches that may or may not have been the first Baptist church in their communities.
Typically, a First Baptist Church in the southern part of the USA is a part of the Southern Baptist Convention whereas a First Baptist Church in the north tends to be independent.  Of course, I realize there are exceptions to that and I have to wonder how churches determine their name.
Doesn't it stand to reason, though that there had to be a FIRST Baptist Church in America?  Thankfully, the history books are a little bit clearer on the subject.
On this day in 1631, pastor and theologian Roger Williams came to America.  Upon arriving in Massachusetts, he was offered a pastorate in Boston at a Puritan church.  Williams declined, stating that the church was "unseparated" from the Church of England.
Williams moved to Plymouth where he assisted another Puritan pastor and began preaching himself.  As time went on, though, he realized that the Puritan churches were still much like the Church of England which he had left.  Also, he began speaking out against the government's intrusion into the church as well as the abuses against the Native Americans.
Williams' messages quickly became political.  Not only did he speak against the unseparated Puritans but he began to speak against the government and church of England.  His message denounced the taking of land from the Wampanoag Indians as well as the denial of religious freedom.
The government of Massachusetts as well as the church met with Williams many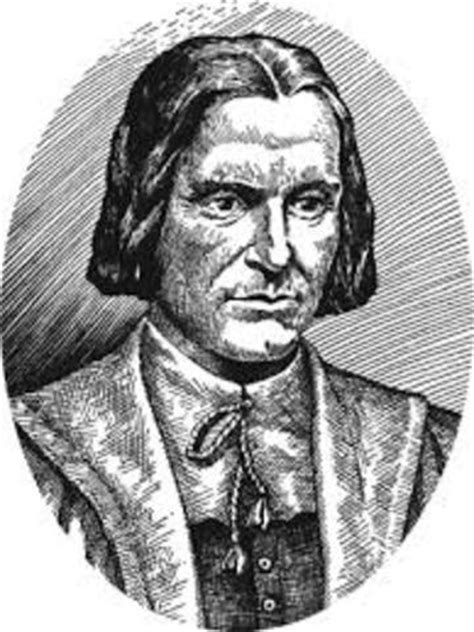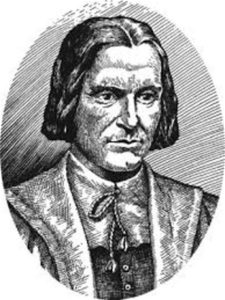 times, trying to get him to tone down his message and desist from spreading his alleged sedition.  After several attempts, Williams was banished from Massachusetts.  He headed south and came to what we know as Providence, Rhode Island.
In 1636, he founded the Rhode Island Colony in Providence on land purchased from the Narragansett Indians.  By 1638, the FIRST Baptist Church in America was erected in Providence about a year after Williams had started the church in his home.  This is the only true First Baptist Church.
A congregation still exists in the refurbished building today.  However, it cannot hold a candle to the stands taken by Williams.  The church is part of the American Baptist Churches, American Baptist Churches USA, and the National Council of Churches.  While Williams stood for separation, these organizations stand for just the opposite and are incredibly inclusive and woke.
I am not ashamed to be called a Baptist.  But there is something far more important.  I am a Christian first and foremost.  I am a Christian by conversion, a Baptist by conviction, and I'm at our Baptist church by choice and calling.
Thinking about that term "Christian," Acts 11:26 introduces it for the first time. "And when he had found him, he brought him unto Antioch. And it came to pass, that a whole year they assembled themselves with the church, and taught much people. And the disciples were called Christians first in Antioch."
We wear the name Christian like a badge of honor, as if it were a compliment.  In fact, it's worn a little too easily in our world.  However, when it was used in Antioch, it was a derogatory term.  You were a follower of Christ and considered one of the worst parts of society.  You got that name because your separated lifestyle reflected that there was something different about you.  You had separated from the legalism of Judaism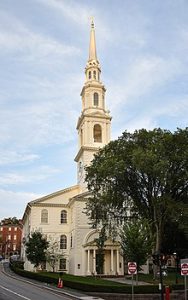 and the hypocrisy of the Pharisees.  You had become a part of The Way and were viewed with wariness and skepticism.
The stands we take for Jesus will be misconstrued, ridiculed, and spoken out of context.  We will be attacked for being different.  Those who hate God and anything that pertains to the Christian life will be mocked.
The cost of bearing the name Christian or even Baptist may be high but others through the years have lived through it with courage and conviction.  May we be able to add our names to that list.