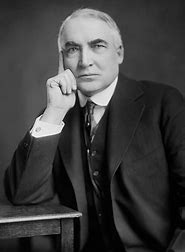 On this day in 1923, a couple of events happened in U.S. history that coincide with each other.  First, let me tell the tale of Warren Gamaliel Harding, the man whose elected term as the 29th President of the United States began on March 4, 1921.  History records that he was one of the most popular presidents to serve.  History also records that he was one of the most corrupt and immoral.
Harding married Florence Kling DeWolfe, a divorcee with a child whom she had turned over to her parents to raise.  When Harding and DeWolfe married, she convinced all the reporters that Harding was marrying a widow rather than a divorcee.  This charade was perpetuated all through their early years of marriage as well as in Harding's presidency and was a forbidden topic of discussion.
During Harding's marriage to Florence, he had several extramarital affairs, even while in office.  Love letters sent between Harding and his mistresses are a part of historical record and housed in the Library of Congress.
It was August 2, 1923 when Harding died from either a heart attack or stroke in a San Francisco hotel.  He was only 58 years old and in his third year as president.  After his death, scandals began to surface exposing great corruption in his administration.  These scandals were in the Justice Department, the Veteran's Bureau, and Teapot Dome, a bribery scandal from the Secretary of the Interior revolving around the selling of rights to America's oil reserves.
When a president dies in office, the vice president is sworn into office according to Article II, Section I of the United States Constitution.  Upon Harding's death, the second event for this day occurred.  Vice President Calvin Coolidge was sworn in as president to finish out Harding's term on the same date as Harding's death.
And, what a mess was waiting for him just around the corner!
Coolidge was completely free and clear of any implications in the scandals.  He had no part in any of them.  However, he was left to deal with the aftermath and all of the previous president's cabinet members, some of which were the scoundrels of the scandals.
Though Harding had died, animosity against him was building in the months following his death as new details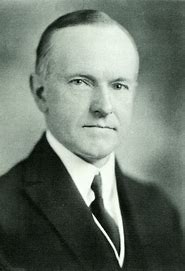 seemed to drop each day of the scandal-ridden White House.  Backroom deals and trysts in the Oval Office closet marred any good Harding may have accomplished and sullied his reputation.
The 30th President of the United States was left to mop up the messes made by the 29th President of the United States.  Coolidge did an admirable job!
As I read these historical accounts, I couldn't help but wonder how many people leave a mess at death that someone else has to fix?  For President Coolidge, the Harding scandals were abundant.  Today, others are left to deal with secrets that come out about the life of the deceased, veiled dalliances that could involve sexual affairs, lies, hidden debt, or secret vices.  Dealing with the loved one's death is traumatic enough.  Now, you begin to question if you ever knew the person.
In the Scriptures, we have a disturbing thought that pertains to this topic.  Exodus 34:6-7 says, "And the LORD passed by before him, and proclaimed, The LORD, The LORD God, merciful and gracious, longsuffering, and abundant in goodness and truth,  (7)  Keeping mercy for thousands, forgiving iniquity and transgression and sin, and that will by no means clear the guilty; visiting the iniquity of the fathers upon the children, and upon the children's children, unto the third and to the fourth generation."
Does God punish one generation for the sins of a previous generation?  I don't believe that is the thought being conveyed.  If the third and fourth generation perpetuate the sins of their fathers, they will certainly be punished.
The thought, though, has to do with repercussions and consequences.  One generation sets into motion either the blessings or cursings of God on future generations.  The third and fourth generation could still be cleaning up the mess and dealing with the adverse effects of a first generational sin.
We are constantly bombarded with a message from environmentalists that challenges us to consider what kind of a planet we are leaving to our children.  With an even greater fervor, we need to be asking ourselves, "What kind of a spiritual situation am I leaving behind?  What will my children and grandchildren have to deal with once I'm gone?  What skeletons will be found dangling in the closet?"
When you and I have passed from this earth, the truth of our life will come out.  We cannot smugly say, "What difference does that make?  I'm dead and nothing can happen to me."
First of all, let me remind you that after death is the judgment and God knows all about what you've done.  He knows no secrets.  Secondly, your children, grandchildren, great-grandchildren, spouse, friends, and others will be left to deal with your actions.  What mess will you leave to them?
On a positive note, Coolidge did such a good and wise job that when he ran for office in 1924 and easily won 35 of the 48 states (Alaska and Hawaii didn't become states until 1959).  That is a 73% win of the states!  He garnered 382 of the 531 electoral college votes – 72%.  The only person to ever get 100% was – George Washington.