If you are a white collar worker, you are dubbed as such because you typically have an office job and wear white shirts and ties to work.  Of course, the blue collar workers question whether or not the word "work" should be attached to white collar!
Consider the idioms.
Sitting at his desk one day, the white collar accountant was examining the books and all of a sudden, he became white as a sheet.  Some one had been embezzling.  So many white lies had been told through the years to explain where the money had gone.  After many attempts to whitewash what had happened, the accountant finally had to raise the white flag and surrender to authorities.
I guess he is going to miss this year's company Christmas party and the white elephant gift exchange.
White light is made by mixing red, green, and blue light together with the right intensity.  White paint cannot be made the same way.  So, how do they do it?
"The answer is that they use a white pigment. The formula for white paint includes some type of medium like acrylic or alkyd resin mixed with a white pigment. Generally, paint manufacturers will use a pigment like lead carbonate, zinc oxide, calcium carbonate, calcium hydroxide or mineral powders.
"Making white paint is a delicate process that requires careful chemistry. What's more, the process of creating white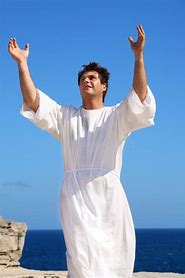 paint can actually be rather dangerous if proper precautions aren't taken to avoid exposure to potentially toxic pigment choices."1
Who would have ever thought it was so complex?!?
White in the Bible is much simpler.  Most frequently, it is used to speak of righteousness and purity.  Our salvation is described in Isaiah 1:18.  "Come now, and let us reason together, saith the LORD: though your sins be as scarlet, they shall be as white as snow; though they be red like crimson, they shall be as wool."
White is the clothing of the angels.  "And the seven angels came out of the temple, having the seven plagues, clothed in pure and white linen, and having their breasts girded with golden girdles." (Revelation 15:6)
It is the clothing of the Believers in Heaven.  Revelation 6:10-11 speaks of the martyrs.  "And they cried with a loud voice, saying, How long, O Lord, holy and true, dost thou not judge and avenge our blood on them that dwell on the earth?  (11)  And white robes were given unto every one of them; and it was said unto them, that they should rest yet for a little season, until their fellowservants also and their brethren, that should be killed as they were, should be fulfilled."
And just imagine this!  Matthew 17:1-2 says, "And after six days Jesus taketh Peter, James, and John his brother, and bringeth them up into an high mountain apart,  (2)  And was transfigured before them: and his face did shine as the sun, and his raiment was white as the light."  To see Jesus clothed in white robes one day as the disciples saw at his transfiguration is something to grand to even fathom.
Other usages of this color can be found in the Scriptures but
the primary applications are right here in these verses.
Can you say that you have been made "white as snow" because your sins are forgiven?  Can you sincerely anticipate a day when you will be clothed in white robes?
Christians live in joy now but the fulness of that joy will not be known until we see Jesus clothed in His white robes and we spend eternity with Him.
1https://www.color-meanings.com/what-colors-make-white/