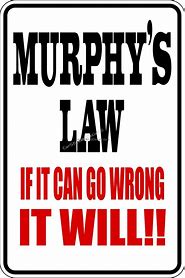 Consider these events and see if you can't identify.
The bread typically falls peanut buttered side down.
When working on your car or garden tractor, you will inevitably drop a nut or wrench in the one place you can't reach.
You'll remember the person's name-five minutes after you fumble a greeting.
You went shopping and the clothes that you loved were in every size except YOURS.  Of the clothes you thought were hideous, they have plenty in your size.
It will always rain after you washed your car.  The same is true of birds – they know when you washed your car and are aiming for you.
You never find a lost article until you replace it.
Five minutes of work takes three times longer than five minutes of free time.
As soon as your hands our full, your nose itches.
Something breaks the day after the warranty expired.
The obnoxious driver you honked at Friday will be a first-time visitor on Sunday.
Some poor schlump named Murphy gets blamed for this every time as we declare, "Chalk it up to Murphy's Law!"  Who in the world is Murphy and what is his law?  Gravity is a law but is Murphy's Law really a law?
Dr. John Stapp was a United States Airforce colonel and flight surgeon.  "From 1948 to 1949, Stapp headed research project MX981 at Muroc Army Air Field (later renamed Edwards Air Force Base) for the purpose of testing the human tolerance for g-forces during rapid deceleration."1   Edward Murphy was the engineer on the project who suggested using a particular type of sensor to detect the amount of force applied to the harness which held the test subject in their seat.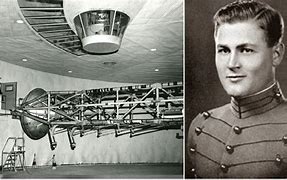 The particular sensor used could only be installed one of two ways.  That means there was a right way and a wrong way.  The task of installing the sensors was given to an assistant and when the first test was run, there was a zero reading.  According to Murphy's son, Robert, his dad said something to the affect of "If there's more than one way to do a job, and one of those ways will result in disaster, then he will do it that way."2
In subsequent press conferences, Dr. Stapp began referring to Murphy's Law.  Taking into consideration the great probability of human error, these dangerous tests relied on Murphy's Law to consider all possibilities of disaster.
And the name stuck!
It sure seems like Murphy hangs around quite a bit and always at the wrong time.  But is there really any such thing as Murphy's Law?  I guess that all depends on your theology.
Murphy's Law is about chance and random negative events.  It's about the perversity of the Universe that's seemingly out to get you.  However, this ignores several Biblical truths.
Truth #1 – God is in charge of everything.  MANY verses of Scripture highlight this truth.  Isaiah 14:24 says, "The LORD of hosts hath sworn, saying, Surely as I have thought, so shall it come to pass; and as I have purposed, so shall it stand."  And, we read in Psalms 115:3, "But our God is in the heavens: he hath done whatsoever he hath pleased."  Murphy is not in charge of the day.  God is.
I know – we look around us and feel like nobody is in charge.  Random chaos seems to be the rule of the day.  We have to take into account that the curse of sin is in effect and God is not going to alter that.  However, we cannot begin to count the number of times that God intervenes.
Truth #2 – All things work together for God's good.  We cannot allow the words of Romans 8:28 to ring hollow.  "And we know that all things work together for good to them that love God, to them who are the called according to his purpose."  God brings about His purpose and while we do not understand why something "bad" happened, we know that it can and will be used by God for His good and ours.
Truth #3 – God has good plans for our lives.  Jeremiah 29:11 gives us those familiar words, "For I know the thoughts that I think toward you, saith the LORD, thoughts of peace, and not of evil, to give you an expected end."  The thoughts – the plans – God has for us are not plans where we get everything we ever wanted and never face trials and adversities.  What parent would do that to their child?!?
Instead, God has plans for our good and our growth.  That includes NOT getting everything we want and going through trials so that we will grow strong and learn to depend on the Lord more.
It's time to change our thinking and outlook.  Say goodbye to Murphy and hello to God.  While we typically will not understand why something has happened at a particular moment, we must acknowledge God and say with all the confidence in the world, "I trust you, Lord.  I don't know why this happened but it was no accident.  It's in your plan somewhere and you will work it to you good."
Murphy's Law isn't a law.  It's an adage that needs to go in the trash can with "good luck," another popular but unbiblical saying.
1https://en.wikipedia.org/wiki/Murphy%27s_law
2Ibid.