There are certain people in life that just seemed to be so tuned in that you might accuse them of being zoned out!  Let me illustrate by giving you one name:  Fred Rogers, otherwise known simply as Mr. Rogers.
Mr. Rogers' Neighborhood ran from February 19, 1968 until August 31, 2001.  His tranquil, soft-spoken delivery and languid mannerisms came at a time where children's television was full of larger-than-life costumed characters doing just about anything for a laugh.  Fred Rogers stood firmly and resolutely in contrast to the rest of children's television for 33 years and 895 episodes.
Fred Rogers was tuned in to children.  He seemed to empathize with them, feeling what may have been difficult issues for them in their lives.  This childlike quality that he possessed made him seem a bit disconnected with reality.
As a child, Fred was shy and overweight (hard to believe!).  This was most likely caused by the severe asthma that kept him from doing many of the things other children did.  He was bullied and taunted and labeled as "Fat Freddy."  The asthma kept him indoors and he spent much of the time entertaining himself.  Rather than allowing it to make him angry and bitter, it softened his spirit, causing him to sense the hurt and pain of others.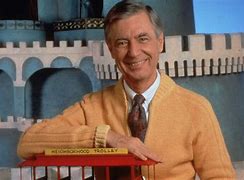 His was a life of discipline.  He was a born-again believer and was an ordained Presbyterian minister.  His daily routine consisted of being up every morning by 5 a.m. in order to spend hours in prayer, Bible study, swimming, and personally returning fan mail.
He would weigh himself every morning and maintained the weight of 143.  His explanation for this necessary number was that the word I has one letter, love has four letters, and you has three – 1-4-3.
Many segments of the show may have been overlooked but there was a methodical purpose behind what he did.  For instance:
The puppet, King Friday the 13th, was given the name because Rogers thought there was so much foolish superstition in the world. He didn't want children to be afraid of it so he created a puppet who celebrated every Friday the 13th as his birthday;
Did you ever notice that in the opening segment of Rogers' Neighborhood, there was a stoplight always stuck on yellow? This was strategically placed as a reminder to children and parents that they needed to slow down in life.
Dead-air time is a curse to a television show. In one episode, the kids were told that fish make sounds when they eat.  A water-proof mic was dropped in a tank of supposedly hungry fish.  However, when the food was dropped in the tank, the fish weren't interested.  There was a long, uncomfortable gap where the camera just focused on the fish doing –   The crew was certain that Rogers would want to retape the segment.  However, Rogers insisted in leaving it just as it was to teach the lesson of patience.
Speaking of fish, why did he always announce that he was feeding the fish? Wasn't that obvious?  Not if you were a blind girl who listened to the show every day.  She wrote in, asking if he could announce what he was doing so she would know that the fish were okay.  Rogers obliged.
When Amy Melder, a 6-year-old Christian viewer, sent Rogers a drawing she made for him with a letter … Rogers wrote back to his young fan: "You told me that you have accepted Jesus as your Savior. It means a lot to me to know that. And, I appreciated the scripture verse that you sent. I am an ordained Presbyterian minister, and I want you to know that Jesus is important to me, too. I hope that God's love and peace come through my work on Mister Rogers' Neighborhood."1
The life that Rogers lived on camera was the same as he was in real life.  It epito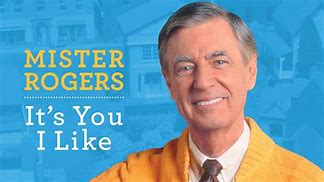 mized Colossians 3:12-13, "Put on therefore, as the elect of God, holy and beloved, bowels of mercies, kindness, humbleness of mind, meekness, longsuffering;  (13)  Forbearing one another, and forgiving one another, if any man have a quarrel against any: even as Christ forgave you, so also do ye."
To this day, children (and adults) are endeared to Fred Rogers.  Though he passed away in 2003, his legacy lives on.  May his kindness and gentleness inspire us to show the love of Christ to others.
Extra!  Extra!  In case you're wondering, urban legends have swirled about Mr. Rogers.  Some have said that he was a sniper in the military and had 25 confirmed kills.  The reason for the constant wearing of cardigans was to cover the multitude of tattoos, most of which memorialized the kills.
Fred Rogers did NOT serve in the military.  Besides the asthma, he was color blind, both of which kept him from service.  He did NOT have tattoos.  And the cardigans were something he wore at the start of the series.  His mother knitted those and it was a way to honor her gift.
1https://www.mentalfloss.com/article/49561/35-things-you-might-not-know-about-mister-rogers