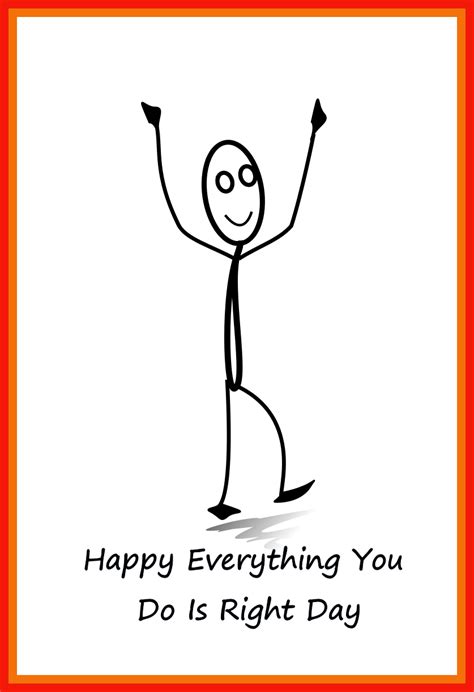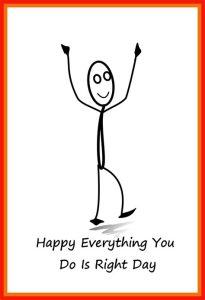 You are right!  These words were excitedly exclaimed by my high school chemistry/physics teacher every time you answered a question correctly.  Well, if you have been looking for a day where everyone would sing your praises and tell you how right you are even if you are dead wrong, look no further.  Today is National Everything You Do Is Right Day.  I am not making this up!
Though I didn't write a devotional about it, yesterday was National Everything You Think Is Wrong Day.  Today's celebration is intended to right the ship and fix yesterday's blunders.  The origins of both of these celebrations are obscure and has alluded the best researchers.
The explanation of this day goes something like this.  "Everything You Do is Right Day reminds us that everything will be alright. No matter what happened yesterday, today can be its own bright day. Nothing can go wrong today because everything you do is right, and it's going to be a perfect day. Everything you do is going to turn out right, no matter your age or status!… To sum it up, Everything You Do is Right Day rights your wrongs. Just relax and feel good about yourself, but please don't use Everything You Do is Right Day as an excuse to hurt anyone and get away with it! This unofficial holiday aims to make you feel good about your deeds and decisions and take the good with the bad."1
While I don't believe that these celebrations are intended to be taken too literally, they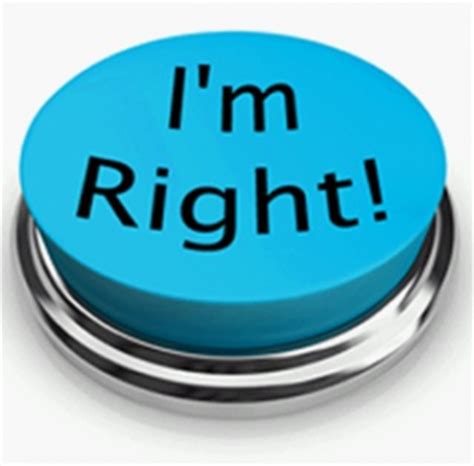 definitely highlight the way people live and think, especially today's celebration.  People talk about their truth, not the truth.  If I think something is truth, then I'm right, regardless of how wrong I am.  We see this in the areas of sexual orientation, gender identification, selection of personal pronouns, who or what you choose to marry, and other cultural hot topics.
To say that everything I do is right is to speak as a fool according to Proverbs 12:15.  "The way of a fool is right in his own eyes: but he that hearkeneth unto counsel is wise."  And, Proverbs 14:12 says, "There is a way which seemeth right unto a man, but the end thereof are the ways of death."
Someone will argue and say, "Well, who are you to determine what's right and wrong?"  Hey, you got me!  I am nobody!  I don't have any right to determine what is right and wrong.  I'm merely repeating what I've read.
Psalms 119:151-152  "Thou art near, O LORD; and all thy commandments are truth.  (152)  Concerning thy testimonies, I have known of old that thou hast founded them for ever."
John 17:17  "Sanctify them through thy truth: thy word is truth."
Ephesians 4:21  "If so be that ye have heard him, and have been taught by him, as the truth is in Jesus."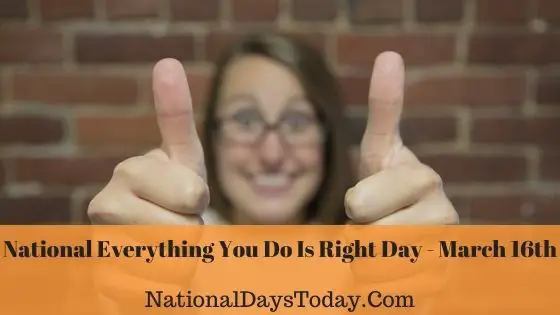 The Bible speaks to our culture and has the right to declare what is right.  As Christians, we have the right to quote the Lord and His Word because God has EVERY right to declare what is right and wrong and He will always be right!
When we challenge man's notion that everything he does is right, we need to carefully and lovingly show the truth of God's Word.  Will we be castigated for it?  Of course.  Nobody likes to be told their wrong!
1https://nationaltoday.com/everything-you-do-is-right-day/